City of London Gets Second New Skyscraper Approval This Year
(Bloomberg) -- Hong Kong developer Tenacity International has won approval to build a new skyscraper in London's financial district, just weeks after obtaining consent for a separate tower on the same street.
The 34-story building at 70 Gracechurch Street was approved by the City of London Corporation in a meeting Tuesday. It will be a stone's throw away from the Walkie Talkie tower and will neighbor a proposed 30-story skyscraper that Tenacity won permission for in late January.
"Last month I spoke to you all about my confidence in the City and in the future of the office," Tenacity Chief Executive Officer Patrick Wong said at the meeting held by video conference. "I can think of no better demonstration of that commitment than the fact that we are back at the very next committee discussing the vision for our second development in the City."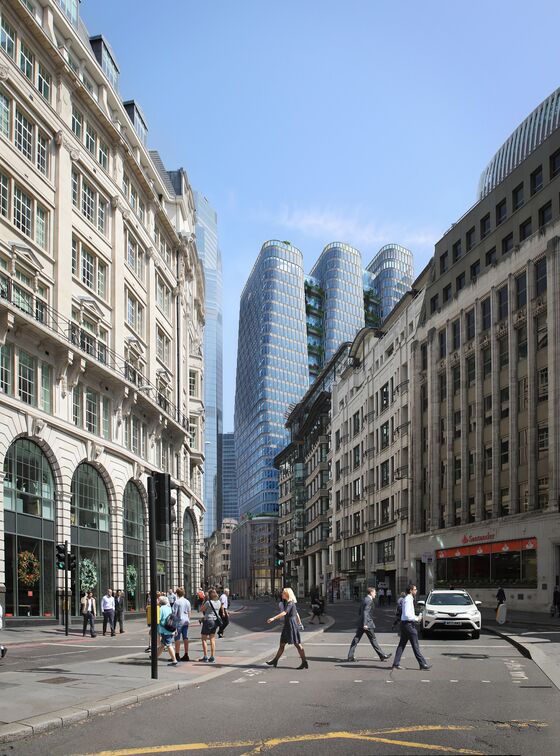 The towers are among the largest new developments proposed in post-Brexit London since the onset of the virus forced most of its workers to remain home. Developers have taken a cautious approach to new projects since the start of the outbreak as they weigh both the economic fallout and any long-term impact on demand. Still, there are signs that large corporations want more space beyond the handful of big offices due to be completed.
The latest development will provide about 72,000 square meters of office space to accommodate more than 4,000 workers, according to the submission document. It will also house food and drink establishments, as well as a public viewing gallery on the 29th and 30th levels.