Citigroup Taps Former OCC Chief John Dugan for Chairman Role
(Bloomberg) -- Citigroup Inc. spent the last decade trying to move past the biggest bailout in U.S. banking history. With its new chairman, the bank won't soon forget it.
To help lead the firm through its next chapter, Citigroup tapped John Dugan, who was on the other side of the table for those rescue talks during the financial crisis. He'll take over as chairman beginning in January, replacing Mike O'Neill, the New York-based company said in a statement Monday.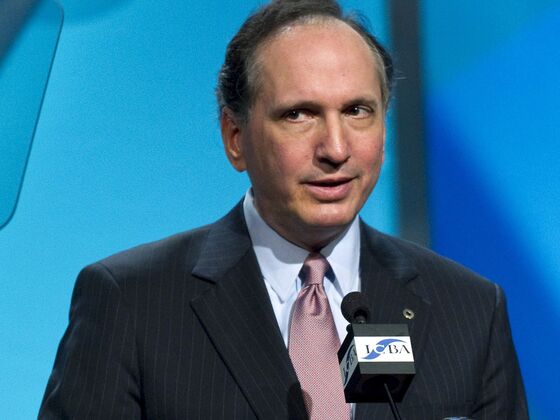 "John brings to the table a unique array of skills that will complement CEO Mike Corbat's background and expertise," O'Neill said in the statement. "He has developed a deep understanding of Citi and has constructively engaged on a broad range of business and regulatory matters, which led the board to this decision."
The move means Citigroup will be adding more regulatory heft to its top ranks as it continues with its plans to ask bank supervisors to allow it to return at least $60 billion to shareholders by 2020. A former bank lobbyist, Dugan was previously head of Citigroup's primary banking regulator, the Office of the Comptroller of the Currency, during the financial crisis. He was a key architect of the government's execution of bank bailouts, including the U.S. taking a $45 billion stake in Citigroup.
Dugan joined Citigroup as a director in October 2017 after advising the board since 2015 as a partner at Covington & Burling LLP. His appointment to Citigroup's board drew some criticism from corporate-governance experts, who said Dugan may not challenge the bank because of his history of lobbying for the industry. Still, Citigroup said in the statement Monday that Dugan's regulatory expertise has helped the firm since he joined last year.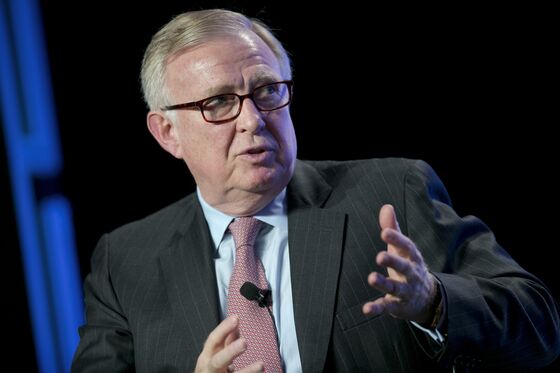 "Most financial institutions have been trying to pretend that the financial crisis never happened and that we can get rid of all the protections that came into being," said Nell Minow, vice chair of ValueEdge Advisors, which helps institutional investors on corporate-governance and shareholder advocacy matters. "It's a good counter-signal and a very reassuring one to bring in somebody that has that perspective and background."
Dugan is part of the long line of regulators who make their way to bank boards after their terms in Washington are up. Former Federal Deposit Insurance Corp. Chairman Sheila Bair was on the board of Banco Santander SA from January 2014 to October 2015, and Jerry Hawke, Dugan's predecessor at the OCC, was named to M&T Bank Corp.'s board in June 2012.
The OCC under Dugan, who took the helm in 2005, faced criticism for allowing Citigroup to aggressively pursue growth as it became the largest U.S. bank before nearly collapsing. The OCC in 2005 warned the firm's bond desk that it was taking too much risk, but the next year regulators lifted sanctions on the company, allowing executives to push forward an expansion that took its balance sheet above $2 trillion.
When he led the OCC, Dugan was mostly known as an industry-friendly regulator who still occasionally sided with the FDIC's Bair as she tried to be tougher on the biggest U.S. banks at the depths of the crisis, Bair said in her 2012 book "Bull by the Horns." Bair said Dugan was an ally of former Treasury Secretary Tim Geithner, whom she clashed with regularly during the crisis over what she saw as his leniency toward banks.
Citigroup has spent much of the last decade selling off $800 billion of unwanted subprime assets and exiting more than 20 businesses. Now, the bank is looking to expand certain units, including consumer banking, where it recently rolled out a national, mobile-only checking account. The firm is also focused on improving its return on tangible common equity, a key measure of profitability, which it has said will reach at least 13.5 percent by 2020.
While many rival banks' shares have recovered from the crisis, Citigroup is still down almost 90 percent from its 2006 high. The stock climbed 1.7 percent at 11:48 a.m. in New York, trimming its decline this year to 9.9 percent.
Dugan's appointment means Citigroup will continue to separate the chairman and chief executive officer roles. Citigroup CEO Corbat and Wells Fargo & Co.'s Tim Sloan are the only CEOs at the six largest U.S. banks who don't also hold the chairman title.
"Citi and our shareholders have been well served by having an independent chairman," Corbat said in the statement. "I have enjoyed working with John, whose deep knowledge of the banking industry has served us well, and I am looking forward to working with him in the years to come."
Corbat had discussed with O'Neill the possibility of taking on the chairman role last year, according to a person with knowledge of the discussions. However, after he considered the work needed to meet financial targets set during the firm's investor day in July 2017 and the time commitment needed to manage a 16-person board, Corbat asked the board not to consider him for the chairman position, the person said.
O'Neill turned 72 last month, making him ineligible for re-election to the company's board under the bank's policies. O'Neill became chairman more than six years ago, as the bank grappled with a revenue slump, higher costs and new regulations.
Months after O'Neill took the chairman job, the board ousted then-CEO Vikram Pandit. O'Neill has since worked with Corbat to strengthen Citigroup's corporate governance and improve shareholder returns, work that culminated with the firm's investor day last year, when it said it would return at least $60 billion to shareholders by 2020.
"The true value of Citi's restructuring and enhanced focus is only just beginning to emerge," O'Neill said in the statement. "I'm confident John will do an exceptional job in advising management and leading our outstanding board."