Citigroup Hires From Rivals for Japan Prime Brokerage Push
(Bloomberg) -- Citigroup Inc. is expanding its Japan prime brokerage business serving global hedge funds by hiring four people from rivals including Deutsche Bank AG.
Two of the recruits will take up newly created positions, division head Toshikatsu Furumi said in an interview. They are Thomas Morrison, who will join from Deutsche Bank in September as head of financial resource management, and Fortress Investment Group LLC's Kentaro Takao, who will lead capital introductions when he starts later this month.
Citigroup started its prime brokerage operation in the country in October 2014, when Japanese stocks were rallying on the back of Prime Minister Shinzo Abe's economic stimulus program. The bank sees potential to boost its presence further because industry competition is less intense than in the U.S. and hedge fund clients are seeking to benefit from the nation's low borrowing costs, Furumi said.
"This country's stock market will remain important for hedge funds given its large size," said Furumi, who is head of prime, futures and securities services. The latest hiring will enable the firm to provide "full services" in Japan and it may add more staff, particularly at the junior level, he said.
Morrison's role involves managing how the firm uses its balance sheet to offer securities to hedge funds, while Takao will help them raise money from institutional investors such as pension funds. Citigroup Global Markets Japan Inc. also recently hired Maki Mizukoshi from Mizuho Financial Group Inc. as a trader for stock borrowing and lending and Takaomi Kitayama from Deutsche Bank as a senior futures sales trader.
Japan accounts for about 20 percent of the U.S. bank's revenue from the prime brokerage business in the Asia-Pacific region, a proportion that Furumi aims to eventually double. Revenue from Japan climbed about 50 percent in the first half of 2018 from a year earlier.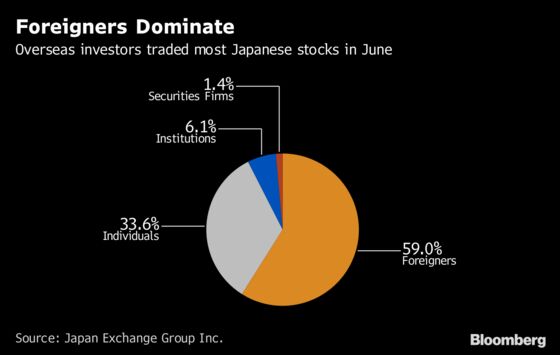 Citigroup currently ranks fifth or sixth among prime brokers in the country, and aims to be among the top three over the next five years, Furumi said. More than half of stock trading in Japan is done by foreigners, Japan Exchange Group Inc. data show.