Creditors Sue for Claims Topping $13 Billion: Evergrande Update
(Bloomberg) -- Chinese creditors have sued China Evergrande Group for more than $13 billion in allegedly overdue payments, according to a report. 
A Chinese court assigned to handle civil lawsuits against Evergrande accepted 367 cases, with claims totaling 84 billion yuan ($13.2 billion), the Financial Times reported, citing official records. The cases were accepted between late August and earlier this month, the report said -- in the period after financial regulators told the developer to resolve its debt problems and up to Fitch Ratings' downgrade of the developer to 'restricted default' last week. 
Meanwhile, Shimao Group Holdings Ltd. jumped as much as 11% in Hong Kong trading Thursday after its shares had fallen to a decade low. Calm also returned Thursday to China's junk dollar bond market, with average prices rising as much as 2 cents on the dollar in morning trade after Citigroup Inc. strategists turned overweight. Shimao's note due 2022 climbed 1.9 cents to 60.5 cents on the dollar after a three-day rout.
China's financial regulator is coordinating negotiations between Shimao and some trust firms for loan extensions, according to people familiar with the matter, a sign that authorities want to prevent a cash crunch at the embattled developer.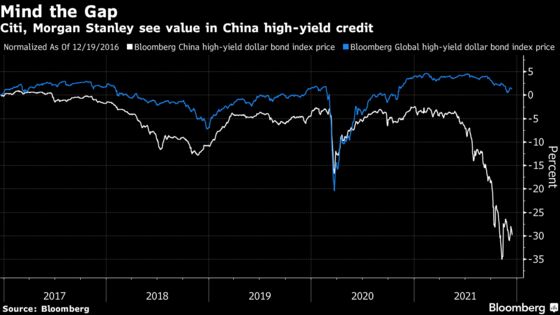 Chinese Creditors Sue Evergrande for Claims Totaling $13b: FT
Shanghai Regulators Require Property Cos to Report Debts: CBH
China Regulators in Talks With Shimao, Trusts (7:08 p.m. HK)
Officials from the China Banking and Insurance Regulatory Commission helped arrange talks between Shimao and trust firms including Guotong Trust Co. and China Minsheng Trust Co., said people familiar with the matter, asking not to be named discussing a private matter.
It's unclear what sweeteners Shimao has presented to gain extensions and whether its offer will be accepted. Shimao is also seeking new loans from banks, one of the people said.
Evergrande Prioritizes Paying Workers, Suppliers (5:52 p.m. HK)
Evergrande is prioritizing payments to migrant workers and suppliers as regulators urge the cash-strapped developer to head off any risk of social unrest, according to people familiar with the matter.
Authorities are particularly focused on making sure payrolls are met before the Lunar New Year holidays starting Feb. 1, when thousands of migrant construction workers are due to reunite with their families, the people said, asking not to be named discussing private conversations. Evergrande had 163,119 employees as of June 30 and indirectly supports the livelihoods of many more through its vendors.
Evergrande Hit With $13 Billion of Claims: FT (3:57 p.m. HK)
Chinese creditors filed suit against Evergrande from Aug. 24 to Dec. 9 over more than $13 billion in allegedly overdue payments, the Financial Times reported. The company isn't able to repay so many creditors with its limited resources, the report cited an unidentified Evergrande executive as saying.
Guangzhou R&F's Bond Exchange (12:49 p.m. HK)
Guangzhou R&F Properties Co.'s bond-exchange offer -- announced Wednesday -- will require support from three-quarters of the note's holders, according to investors who took part in a call with company officials on Thursday. 
Dagong Gets Warning on Due Diligence (12:19 p.m. HK)  
Dagong Global Credit Rating and its rating supervisor Qian Xiaoyu received warnings from China's National Association of Financial Market Institutional Investors for violations of self-discipline rules in the interbank bond market, NAFMII said in a statement. 
The Chinese rating firm has failed to fulfill its duties to carry out proper due diligence on a chemical product making unit of Shandong SNTON Group since 2011, according to the statement.
Greenland Wires Funds for $500 Million Bond (10:34 a.m. HK)
Greenland Holdings Corp. has wired funds to repay a $500 million bond which became puttable Thursday, the Chinese property developer said in a statement. It also pledged to repay about $200 million loans from overseas lenders on time.
Currency Risk in 2022 (6:06 a.m. HK)
Chinese developers with sizable offshore debt could face higher currency risk in 2022 if the yuan weakens against the dollar, according to Bloomberg Intelligence analyst Patrick Wong. The analyst's stress test shows Guangzhou R&F's total debt in cash may jump the most. 
The borrowings of major developers could increase by an average of 1.1% in yuan terms if the U.S. dollar appreciates by 5%, according to the report. 
Shanghai Tells Firms to Report Debt (00:24 a.m. HK)
Government agencies in Shanghai recently held two closed-door meetings with property developers under the city's administration, according to a report from the 21st Century Business Herald, which did not say where it got the information. 
Authorities demanded the companies make contingency plans for risk prevention and asked them to submit reports itemizing their debts -- both on and off balance sheet -- as well as borrowings onshore and offshore, the report said.
Silence From Wealth Management Partner (9:25 p.m. HK) 
Developer China Fortune Land Development Co. has lost contact with its wealth-management partner China Create Capital Ltd., according to an exchange filing. The company has reported the matter to the local police. China Fortune land paid $313 million to Create Capital.