Citi's Bond Traders Snap Revenue Slump on Rates Blasted by Trump
(Bloomberg) -- The interest-rate moves stoking President Donald Trump's ire are also fueling Citigroup Inc.'s profits.
Client activity around the Federal Reserve's hike in late September helped the bank post a surprise 9 percent jump in revenue from fixed-income trading in the third quarter. It marked the first increase since the start of 2017, offsetting weaker results from U.S. consumer banking. Cost cuts inched the bank closer to a key efficiency target.
Shares of Citigroup rose 3.5 percent to $70.76 at 9:39 a.m. in New York. The stock had declined 8.1 percent this year through Thursday, trailing the 5.4 percent decline of the S&P 500 Financials Index.
Chief Financial Officer John Gerspach wasn't so optimistic just four weeks ago, when he told investors that total trading would be flat to "slightly higher." But a growing pile of evidence, such as stronger U.S. payrolls, encouraged customers to prepare for higher interest rates -- despite Trump's repeated laments. Citigroup said Friday that trading was boosted by rates and currencies, as well as spread products.
"Our results this quarter showed solid year-over-year revenue growth across many of our businesses, including fixed income," Chief Executive Officer Michael Corbat said in a statement, pointing to that business before others.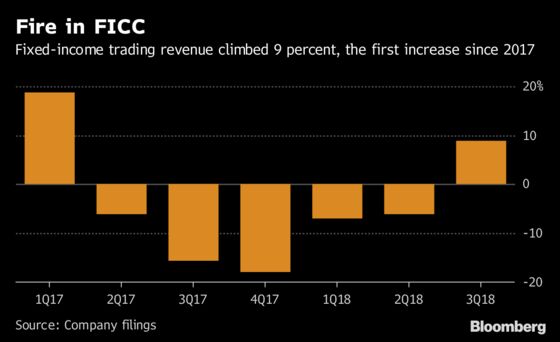 Citigroup outshone its larger rival in the fixed-income business, JPMorgan, which posted fixed-income trading revenue that dropped more than analysts' estimated. Still, JPMorgan said net interest income jumped to a record $13.9 billion in the period, helped by rising interest rates and growth in loans.
Citigroup's fixed-income traders had been on a losing streak. Revenue from handling bonds, currencies and commodities had dropped for five straight quarters, when compared with year-earlier periods. This time those desks generated $3.2 billion, beating analysts' predictions for revenue to be little changed at $2.95 billion.
Revenue from rates and currencies gained 7 percent to $2.2 billion, while trading of spread and other fixed-income products climbed 14 percent to $747 million.
An opposite picture emerged in the North American consumer business, which suffered a rare drop, with revenue down 1 percent to $5.1 billion. The bank blamed trends including a decline in mortgage business, as well as the sale of its Hilton Worldwide Holdings Inc. credit-card portfolio.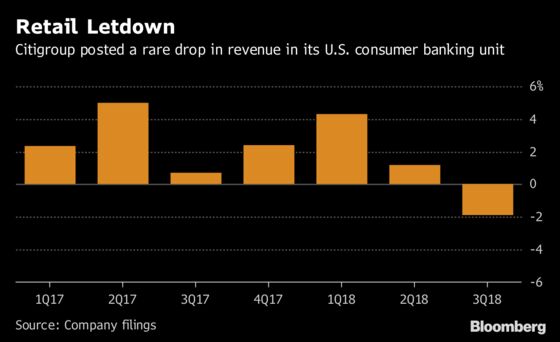 Other key units disappointed. Equities trading rose just 1 percent, falling short of the 5 percent increase predicted by analysts. Investment banking revenue slid 8 percent, more than analysts projected, hurt by a decline in underwriting fees.
To improve earnings, Corbat has been focusing on costs, whittling the bank's workforce even as the company benefits from the U.S. tax cuts Republicans pushed through in December. Last month, the bank defied skeptics by raising its forecasts for expense reductions and profitability.
The firm's efficiency ratio -- a measure of how much it costs to produce $1 of revenue -- declined to 56.1 percent during the quarter. It was the first time this year that it didn't spill over the bank's 57 percent target for all of 2018.
Citigroup has said it will cut nearly $2 billion in costs by 2020 through initiatives such as a 10 percent reduction in paper statements and payments and reducing headcount by 3,000. The firm also expects to reduce its real estate footprint by 6 percent and ditch 37,000 physical desktops during that time.
Here are other key numbers from the third quarter:
Revenue was flat compared with a year ago at $18.4 billion, shy of the $18.5 billion average of analyst estimates.
Net income rose 12 percent to $4.62 billion, or $1.73 a share. Analysts estimated adjusted per-share earnings of $1.68.
Expenses fell 1 percent to $10.3 billion, below the $10.4 billion average estimate.