Cisco Shares Fall After CEO Says Pandemic Drag Is Lingering
(Bloomberg) -- Cisco Systems Inc. shares fell after the company reported a big decline in enterprise sales and Chief Executive Officer Chuck Robbins warned Covid-19 is still crimping growth.
Sales in the fiscal second quarter totaled $12 billion, in line with a year earlier. Product revenue was $8.57 billion, down from the same period a year ago. Service sales were $3.39 billion, up about 2%, the company said in a statement Tuesday.
Revenue from Cisco's Enterprise segment, which serves large companies, fell 9% year-over-year in the period. During a conference call with analysts, Robbins said the pandemic is "not fully behind us." Cisco shares slipped more than 5% in extended trading.
A large portion of Cisco's revenue comes from purchases of expensive network hardware by government agencies, corporations and video and phone service providers. That makes its results an early indicator of business confidence.
"Enterprise business accounts for about 50% of sales, and that's dependent on how quickly the economy opens," said Woo Jin Ho, an analyst at Bloomberg Intelligence. "We're all working from home, so the last thing we're doing is sitting behind our office desk, and we don't need too many upgrades now."
In November, Cisco suggested corporations and governments were beginning to resume spending on networking gear as the economy slowly recovered. The latest results suggest otherwise.
"Investors didn't like that," Ho said. "The CEO said on this call that large orders are getting pushed back until the re-opening of offices."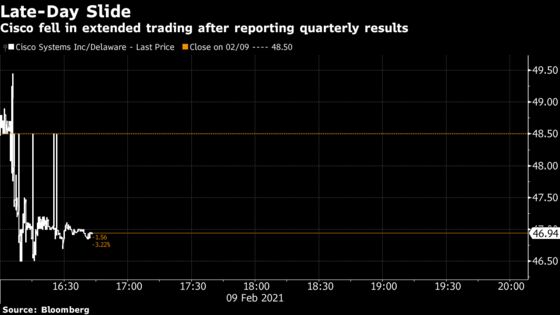 Robbins has tried to shift sales more toward software and subscriptions, although the pandemic has disrupted the effort. On Tuesday, the CEO disclosed $3.6 billion in quarterly software revenue, the first time Cisco has reported that separately.
However, that was overshadowed by Cisco's weak enterprise sales. Ittai Kidron, an analyst at Oppenheimer & Co., said that segment experienced a "significant lag relative" to other parts of the business.
Net income came in at $2.5 billion, or 60 cents a share, in the fiscal second quarter. That was down 12% from a year earlier.
Cisco said revenue will grow 3.5% to 5.5% year-over-year in the current period. Earnings should come in at 64 to 69 cents a share, or 80 to 82 cents a share excluding certain items.