Cisco Falls as Sales Forecast Misses Estimates on Supply Issues
(Bloomberg) -- Cisco Systems Inc., the biggest maker of computer networking equipment, gave a lackluster revenue forecast for the current period, hurt by a shortage of components that's making it difficult to keep up with demand. Shares declined about 6% in extended trading.
Sales in the fiscal second quarter will increase 4.5% to 6.5% from a year earlier, the San Jose, California-based company said Wednesday in a statement. That fell short of analysts' average estimate of 7% revenue growth, or $12.8 billion.
Chief Executive Officer Chuck Robbins has been building out Cisco's offerings of software and services provided over the internet, aiming to reduce the company's reliance on hardware sales, which can vary depending on demand. For now, revenue and profitability are closely tied to corporate spending on networking hardware, which is being held back by constraints on its supply of parts, Cisco said.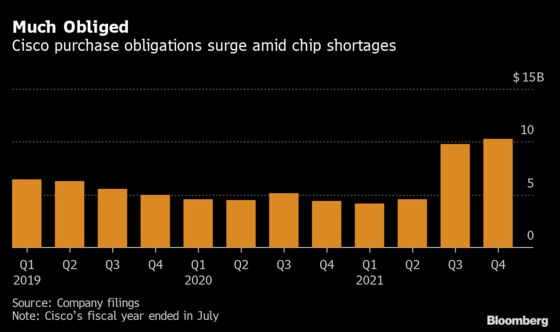 "There's no question that the Q2 guide is impacted by the supply chain, the component supply issues that are putting a headwind on what we can get out the door," Chief Financial Officer R. Scott Herren said during a conference call after the results.
Cisco's executives said they expect that parts shortages will last until the second half of the company's fiscal year. Component markets were volatile in the most recent quarter, but Herren and Robbins said they anticipate more supply-chain predictability by the end of the fiscal year in July.
In the meantime, the networking giant had to contend with longer lead times and higher costs for procuring parts in the first quarter, which ended Oct. 30. Cisco raised product prices on Sept. 1 and expects the increases to help improve results in the second half of the year. For now, the company is working through order backlogs because of a surge in customer demand.
"During the quarter, we saw better visibility to components from some of our suppliers in terms of when they could deliver and the quantities," Herren said. "We saw fewer de-commits come in during the quarter, another sign of stabilization."
Sales in the first quarter gained 8% to $12.9 billion, missing analysts' average projection of about $13 billion. Profit, excluding some items, was 82 cents a share, compared with the average estimate of 81 cents.
The company has traditionally generated the bulk of its revenue from equipment that forms the backbone of computer networks, but that's changing. Revenue from subscriptions will reach 50% of Cisco's total by fiscal 2025, company predicted at an event in September.
Cisco benefited during the work-from-home shift as companies rushed to upgrade their hardware and software to accommodate the change. Now that workplaces are opening again, the company is striving for more orders as in-house computer networks are upgraded. But shortages of parts have led to Cisco making more upfront payments to secure supply. Those payments and higher prices have narrowed profitability.
"The first half of last quarter, we did see some deterioration in our supply chain component availability, and then we saw it stabilize in the second half, so that was good," Robbins said on the call. "We expect it to remain stabilized in Q2 and then we think we'll see some slight improvement in the second half of our fiscal year."
Cisco shares fell to a low of $52 in extended trading after closing at $56.76 in New York. The stock has gained 27% this year.
The company has revised the categories used in earnings reports to reflect changes to its business. Sales in the Secure Networks unit, which includes networking hardware such as switches and routers, jumped 10% to $5.97 billion in the quarter. Internet for the Future, which includes optical networking and 5G-related products, had the biggest gain, rising 46% to $1.37 billion, while Hybrid Work, which includes Webex and other collaboration products, declined 7% to $1.11 billion.
Services revenue increased 1% to $3.37 billion, missing the average estimate of $3.44 billion.