Chrysler Leads U.S. Auto Sales Lower on Higher Financing Rates
(Bloomberg) -- Five of the largest automakers in the U.S. missed analysts' estimates for April sales, with Fiat Chrysler Automobiles NV posting the biggest drop, as consumers struggle to finance new vehicles with costlier loans.
Fiat Chrysler deliveries fell 6.1 percent , Ford Motor Co.'s reportedly declined 4.7 percent, and Toyota Motor Corp.'s dipped 4.4 percent, trailing projections for a month in which industry demand is expected to slow. Nissan Motor Co.'s bounce back from a disastrous month a year ago was more tempered than analysts were estimating, and Honda Motor Co. sales were little changed.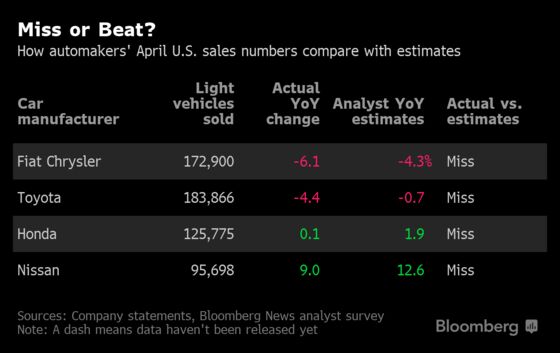 Concern about interest rates appears to be giving consumers pause, especially as average vehicle prices creep higher, according to Jessica Caldwell, an analyst for Edmunds. "We just keep seeing rising average transaction prices," she said in an interview. The car-shopping researcher says interest rates on new-car purchases have hovered above 6 percent every month this year.
"We are disappointed with how sales turned out," with interest rates a factor, Brian Irwin, Accenture Plc's managing director for North American automotive, said in an interview. He now expects U.S. sales to fall below 17 million vehicles this year from 17.3 million last year.
Nissan, whose total sales rose 9 percent, credited cut-rate financing offers with helping boost its redesigned Altima sedan in April, and the automaker is expanding that program to its Rogue SUV this month. "Offering a special rate has done well for us," said Billy Hayes, a division vice president for Nissan North America.
Ford's U.S. sales fell 4.7 percent, according to Automotive News. That was steeper than the 4 percent drop predicted by analysts. The Ford brand fell 4.7 percent, while Lincoln dropped 6.2 percent, the publication reported.
Fiat Chrysler announced after its third straight monthly U.S. sales decline that it's going to shift to quarterly reporting. The company is taking after GM, which made the switch a year ago, and Ford, which followed suit beginning in January.
The Detroit Three are killing off several slow-selling passenger cars from their lineup. The shift to sharing results on a quarterly basis is to some extent aimed at trying to avoid focusing attention on the volatility those moves will cause.
Honda eked out a gain of 0.1 percent, as the new Passport sport utility vehicle helps offset declines for cars including the Accord sedan.
Ford shares declined less than 1 percent to $10.40 as of 1:56 p.m. in New York. Fiat Chrysler fell 1.9% and GM rose 0.3 percent.
While vehicle deliveries are slowing, automakers are getting more bang for their buck on each sale. Average prices likely climbed to the highest seen so far this year, according to Edmunds. The car-shopping researcher estimates consumers paid about $36,718 per new vehicle in April, up about $624 from a year ago.