The Yen Is Still Sliding, Despite the Bulls
(Bloomberg) -- The world and its mother is convinced Japan's currency is going to strengthen -- it's just that nobody seems to have taken the time to tell the still-weakening yen.
Citigroup Inc.'s gauge of trader positioning, the FX PAIN JPY Index, climbed to the highest since October 2015 last week, suggesting funds have continued to load up on the Japanese currency. Yet the yen has weakened more than 6 percent since the Jan. 3 flash crash, as a rally in global equities sapped demand for haven assets.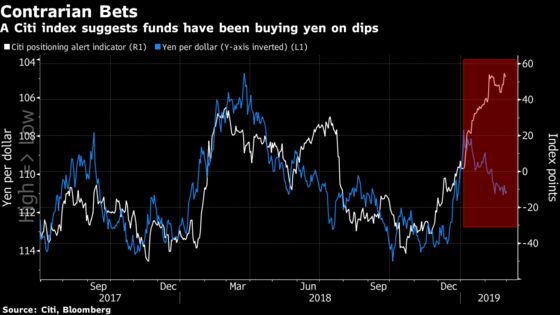 It's hard to blame yen bulls. Almost everyone from strategists to economists to fund managers continue to push out yen positive commentary. Credit Agricole CIB said last week it is time for clients to buy, while Dai-ichi Life Insurance Co., one of the Japan's biggest insurers, is already adjusting portfolios in anticipation of strength. Goldman Sachs Group Inc. said the currency may surge to 60 per dollar in the next crisis, from the 112 level it traded at on Monday.
But the currency just refuses to appreciate, falling to its lowest since late December on Friday against the dollar, even as U.S. President Donald Trump tried to talk down the greenback. Reports the U.S. and China are close to a trade deal that could lift all U.S. tariffs bolstered a rally in risk assets Monday.
"If there are a few more warning signs around the economic environment or risk sentiment, then I'm quite happy to build more longs at these levels," said Stuart Simmons, Brisbane-based senior portfolio manager at QIC Ltd, who has taken a "cautious" long position in the currency. The A$85 billion ($60 billion) asset manager sees the yen's weakness as mild given the surge in stocks, which is "actually quite encouraging."
Economists forecast Japan's currency to strengthen to 108 per dollar by the year-end, more than a 3 percent rise, according to their estimates compiled by Bloomberg.
For Minori Uchida, Tokyo-based head of global market research at MUFG Bank Ltd., the yen has been closely tracking real yields, which have been ticking lower this year. However, Japan's plan to raise sales taxes in October will hurt the economy and dampen inflation expectations, boosting real yields and the currency, he said.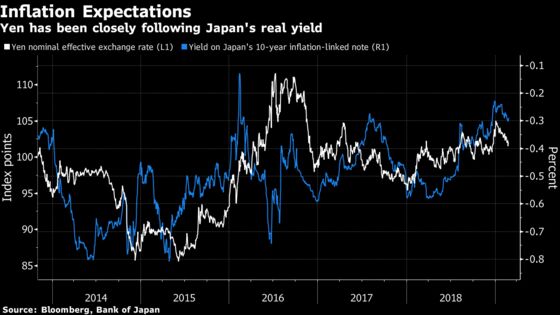 "Deflation will start to emerge, and I'm seeing the yen getting quite strong this year," he said.