Chocolate Makers Go East for Growth as Western Appetites Dwindle
(Bloomberg) -- The world's biggest chocolate maker is looking east for growth amid a waning sweet tooth in the U.S. and western Europe.
Zurich-based Barry Callebaut AG agreed to buy Moscow-based Inforum to expand in the world's second-largest chocolate market by volume, the Swiss company said Thursday. The purchase is a sign of confidence for growth there after the ruble declined 12 percent against the franc over the past year.
The move shows how chocolate companies are eyeing new markets as U.S. and European shoppers snub sugary products in search of healthier offerings. Swiss peer Lindt & Spruengli AG has said Brazil, South Africa, Japan, China and Russia hold "enormous" potential in coming years. Half of the 30 to 40 stores it plans to open this year are in such emerging markets. After failing to beef up its position in the U.S., where Hershey Co. has also been struggling, Nestle sold its chocolate business there earlier this year.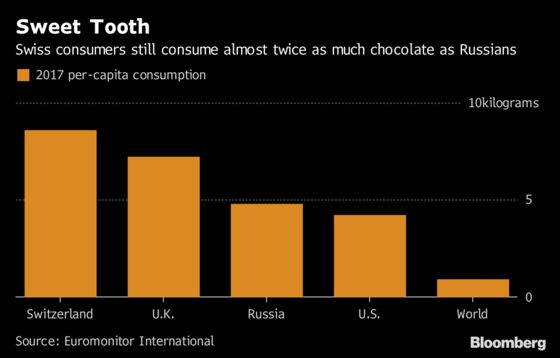 Europe is saturated with chocolate, being home to the top 10 countries with the biggest per-capita consumption, according to Euromonitor International.
Read more: Emerging Markets Fuel Chocolate Sales
"All cocoa- and chocolate manufacturers are eyeing emerging markets, and we'll be seeing a bigger push there," said Diana Gomes, an analyst at Bloomberg Intelligence. "Per-capita consumption is so much smaller in emerging markets that the potential for growth there is immense."
Barry Callebaut is a little-known name to consumers despite being the world's largest chocolate producer, making sweets that companies such as Hershey and Nestle slap their brand labels on. The company has been expanding in China over the past years, betting it will become another of the world's largest chocolate markets eventually.
Inforum, which produces chocolate, coatings and fillings, had sales of about 86 million Swiss francs ($87 million) last year. No terms were disclosed for the deal, which is expected to be completed by the end of 2018.