Chipotle's Turnaround Gains Momentum as CEO Plots New Course
(Bloomberg) -- Chipotle Mexican Grill Inc. is demonstrating that its recent momentum may be more than a blip.
The restaurant chain posted same-store sales that beat estimates in the second quarter, as new Chief Executive Officer Brian Niccol starts to apply the lessons he learned at his former employer, Taco Bell. Chipotle also said margins improved at its restaurants and boosted the high end of its comparable sales forecast for the year, sending shares higher in late trading.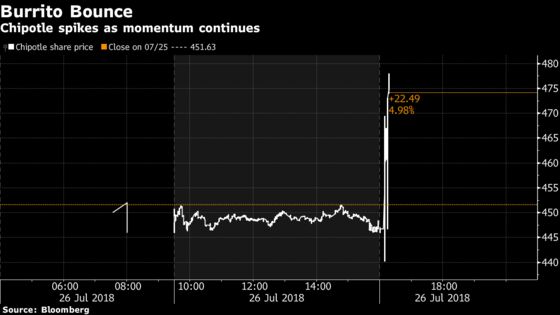 After struggling to bring back diners in recent years following illness outbreaks, Chipotle is seeing better results under Niccol, who took the helm in March. In his first months on the job, the chain has started investing in store remodels, new food items, faster service times and a new advertising campaign.
Some of the plans that are helping the chain recover were in place when the new CEO arrived, but he deserves credit for increasing the chain's marketing presence, said Michael Halen, an analyst at Bloomberg Intelligence.
"That's the biggest short-term impact you're seeing from Niccol," he said. "That should give investors some confidence this can continue."
Shares rose as much as 7 percent in New York after the close of regular trading. The stock was already up 55 percent year to date.
Same-store sales rose 3.3 percent in the quarter, outpacing the 2.7 percent analysts had been expecting, according to Consensus Metrix. The company said it now expects comp sales to be in the low- to mid-single digits this year, up from an earlier expectation of low-single digit growth.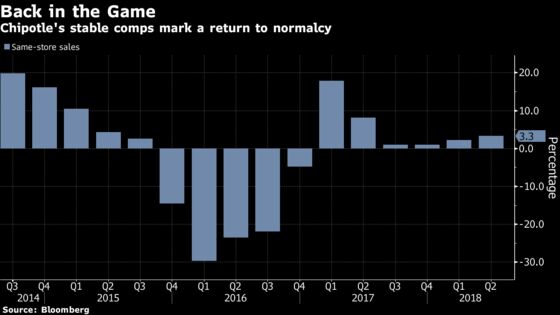 Chipotle is tweaking almost everything as Niccol tries to remake the company more in the image of Taco Bell, which grew rapidly under his watch. A new marketing tagline is coming later this year, which will be followed by new advertising in 2019, Niccol said.
The chain is also testing new foods in New York City, including chocolate milkshakes, avocado tostadas and nachos. To capture the growing group of diners who prefer to get their food delivered, Chipotle has partnered with DoorDash and is adding a delivery option to its mobile app. Additionally, Chipotle is starting a new loyalty program in the second half of this year, with the plan to roll it out more widely in 2019. This will be coupled with testing of digital order pick-up shelves and a new restaurant design this fall.
Meanwhile, Niccol, in search of a broader cultural change at the company, is moving its headquarters from Denver to Newport Beach, California -- just miles from Taco Bell's head office. Chipotle said it expects charges of $115 million to $135 million as it relocates. Chipotle is also closing 55 to 65 poorly performing stores. The company said it shuttered or relocated eight locations in the quarter, including the closure of five Pizzeria Locale restaurants.
Overall, the company is showing better results after a long period where its shares were hammered by investors, Halen said.
"They have a long ways to go, but things are definitely a lot better than they were," he said.