Chip Stocks Tumble as Raymond James Is Latest to Sound Alarm
(Bloomberg) -- Another analyst is issuing a warning on semiconductor stocks.
Raymond James's Chris Caso cited a deterioration in sentiment this month and rising inventory levels in downgrading the group. The Philadelphia Semiconductor Index fell as much as 1.8 percent with Cypress Semiconductor Corp. and NXP Semiconductors pacing declines.
"We spent the last week in Asia, meeting with a number of handset, networking and PC supply chain players," Caso wrote in a research note. "Based on the data we collected, we have concluded that we have entered a cyclical downturn."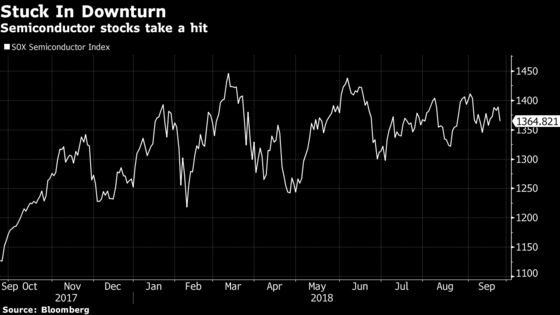 Chipmakers requiring less time to ship their products are the first to be experiencing weaker demand, Caso said. Among the outperform-rated stocks downgraded to market perform were Analog Devices Inc., Microchip Technology Inc., and ON Semiconductor Corp. Monolithic Power Systems Inc. and Intel Corp. were also downgraded.
Caso joins a growing list of analysts who have raised a red flag on semiconductor stocks, which have been one of the best performing groups over the past two years. Stifel Nicolaus and Morgan Stanley are among Wall Street firms who have warned about a potential downturn in the sector in recent months. Goldman Sachs also warned that supply and pricing issues that plagued memory chip and other manufacturers may worsen into 2019.
It's not all doom and gloom. Keybanc analysts led by Weston Twigg started new coverage on a wide swath of the industry Monday, including Analog Devices Inc., Advanced Micro Devices Inc., Intel, and Texas Instruments Inc. They are "constructive" on the space long-term given the expectation for new demand drivers, while expressing caution near-term in the ratings of the 10 companies at the equivalent of a hold.
And despite the concerning trends Raymond James cited, the firm remains optimistic about two chipmakers. Nvidia Corp. and Qorvo Inc. are likely to be unaffected by the downturn due to positive trends unique to each company, Caso said.