Chip Stocks Jump Most Since 2015 After NXP Eases Demand Fear
(Bloomberg) -- Semiconductor stocks jumped Thursday after earnings results from NXP Semiconductors NV helped assuage fears about slumping chip demand.
The Philadelphia Semiconductor Index rose 4.6 percent in New York trading, the biggest gain since August 2015. The surge extended the index's three-day rally to 10 percent. Chip stocks, along with other technology stocks, were among the hardest hit last month as markets tumbled amid a spike in volatility. The group of 30 semiconductor-related stocks slumped 12 percent in October, its worst month since 2010.
"The absence of bad news is good news," said Anand Srinivasan, a Bloomberg Intelligence senior analyst covering semiconductor companies. "Today looks like a relief rally."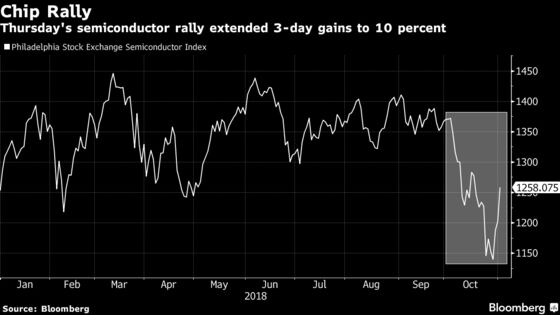 NXP, the biggest supplier of chips to the automotive industry, surged 12 percent after third-quarter revenue beat estimates and its sales forecast for the fourth quarter was roughly in-line.
"Results were very solid, especially given recent sector cyclical concerns," Bernstein analyst Stacy Rasgon wrote in a research note. Other big semiconductor movers included Advanced Micro Devices Inc., which gained 11 percent, and ON Semiconductor Corp., which rose 8.2 percent.