Chip Gear-Maker ASML's Profit Margin Forecasts Top Estimates
(Bloomberg) -- ASML Holding NV's forecast for profitability beat analysts' estimates, even though Europe's largest semiconductor equipment maker won just one order for its newest lithography machines in the second quarter.
ASML shares rose as much as 6.8 percent in Amsterdam on Wednesday, the highest since January 2017. The stock has gained 24.5 percent this year, valuing the manufacturer at 77.1 billion euros ($89.7 billion).
The Dutch company forecasts a gross margin of between 47 percent and 48 percent this quarter, beating the average estimate for 44.9 percent. It expects a stronger second half than in the first six months, the company said in a statement Wednesday.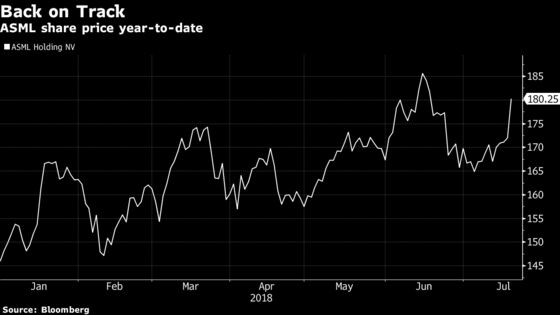 Third-quarter revenue will be 2.7 billion euros to 2.8 billion euros, the Veldhoven, Netherlands-based company predicts. Analysts had projected sales of 2.72 billion euros for the period. A year earlier, the chip industry bellwether reported revenue of 2.45 billion euros.
The company gave its forecast after reporting second-quarter net sales of 2.74 billion euros, beating estimates.
ASML is pushing clients including Intel Corp., Samsung Electronics Co. and Taiwan Semiconductor Manufacturing Co. to adopt its newest machines, called extreme ultraviolet lithography systems or EUV, which can etch smaller circuits while increasing capacity and speed. EUV machines, about the size of a bus, cost more than 100 million euros each. It received one new EUV order during the second quarter and said it was on track to supply 20 EUV systems this year and more in the following year.
"What we are seeing in terms of EUV demand for 2019, we plan for about 30 shipments, that is a very realistic number based on what we are seeing today," ASML Chief Executive Officer Peter Wennink said in a video.