Chinese Takeover of European Tech Assets Set for Greater Scrutiny
(Bloomberg) -- Chinese investors have renewed their billion-dollar shopping spree for high-tech assets in Europe, but new rules from the European Union promise greater scrutiny of such acquisitions.
The technology sector in particular has been an important target as China is intent on developing its own semiconductor production to lessen its dependence on foreign technology.
EU negotiators last week approved the first bloc-wide rules to prevent foreign investments from threatening national security, largely driven by unease over acquisitions by Chinese companies.
Under the new rules, authorities are likely to intensify their scrutiny of so-called dual-use technology that can be tapped by both the civilian and military sectors, according to Mikko Huotari, deputy director at the Mercator Institute for China Studies in Berlin. France and Germany in particular are likely to train their eyes more closely on acquisitions from China, he said.
Chinese acquirers have been behind $4.4 billion-worth of European deals so far this year, up almost two times the volume for 2017, according to data compiled by Bloomberg.
Under the new law, EU governments will be allowed to request information and offer comments on a foreign direct investment in a particular member country. The nation in which the investment was planned would have to take any remarks and opinions into account when deciding on the deal.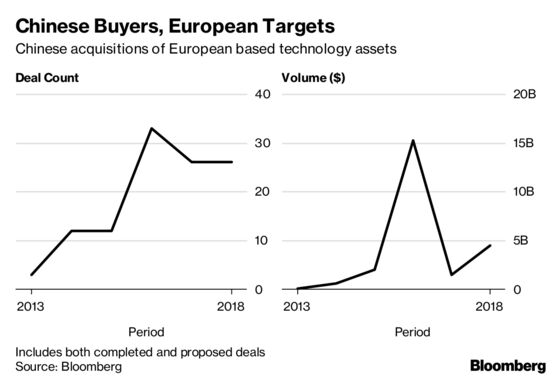 Economy Minister Margarete Schramboeck of Austria, which holds the EU's rotating presidency and negotiated the Nov. 20 accord on behalf of the bloc's national governments, called the 2016 acquisition of German robotics company Kuka by Chinese appliance maker Midea Group a "wake-up call" for the bloc's politicians.
The attempted purchase of Aixtron SE, a German supplier of semiconductor equipment, by a consortium of Chinese investors also fanned concerns in both Europe and the U.S. The deal derailed in late 2016 after the Obama administration blocked it on national security grounds.
Schramboeck stressed that the EU mechanism isn't aimed only at Chinese investments. Still, China appears to feel targeted by the measures.
In reaction to last week's agreement, the Mission of China to the EU said investments in Europe by the nation's companies aren't part of a political strategy and that it hopes the EU can "steer clear of trade protectionism."
The new rules still need official approval from the EU governments and the European Parliament. The legislation is on track to take effect at around the end of 2020.
While deals like Kuka and Aixtron sparked heated debate, many other Chinese acquisitions in Europe's tech sector have flown through with little alarm. That could change under the future system, which is designed to raise awareness among officials about who is investing where.
"Step by step, we are creating a bloc-wide method for raising questions," said Franck Proust, a French member of the European Parliament who helped negotiate the agreement. "We are determined under the new system to gain information about the ultimate investor and to understand the context of the investment."
Sweden's Silex Microsystems, which manufactures sensors that are used in handsets, cars, medical and other devices, was indirectly acquired in 2015 via a holding company by NAV Technology Co, Ltd. The Chinese parent is an investment company that invests in navigation systems, which can be used both for civilian and military purposes.
In one of the largest ever Chinese acquisitions in the Netherlands, JAC Capital, a subsidiary of a state-owned investment company, and Wise Road Capital in 2016 jointly bought a spin-off of NXP Semiconductors NV called Nexperia. The company, which manufactures semiconductors for the automobile industry, has since become the target of Chinese smartphone manufacturer Wingtech Technology Co., which in late October said it's acquiring the firm for 25.2 billion yuan ($3.6 billion.)
For many European companies, Chinese ownership has meant access to much-needed capital that is sometimes hard to come by in Europe. But greater regulatory scrutiny on such deals in the future could restrict those options.