Chinese EV Maker Nio's Loss Narrows on Demand Rebound
(Bloomberg) -- Chinese electric vehicle startup Nio Inc. reported a narrower second-quarter loss on a recovery in car-buyer demand, and said it's working with semiconductor suppliers to mitigate the impact on production from a global chip shortage.
The Shanghai-based company posted a net loss of 587.2 million yuan ($90.6 million) in the three months ended June 30, compared with a 1.18 billion yuan shortfall a year earlier, it said in a statement. Revenue surged to 8.45 billion yuan, exceeding analyst estimates of 8.29 billion yuan, according to data compiled by Bloomberg. 
For more detail from the results, click here
Nio delivered 21,896 vehicles last quarter, more than doubling from a year earlier when China was just starting to recover from the first outbreak of Covid-19. It forecast deliveries will rise to between 23,000 to 25,000 vehicles this quarter. 
Third-quarter revenue is forecast to be between 8.91 billion yuan to 9.63 billion yuan, compared to analyst estimates of 8.93 billion yuan.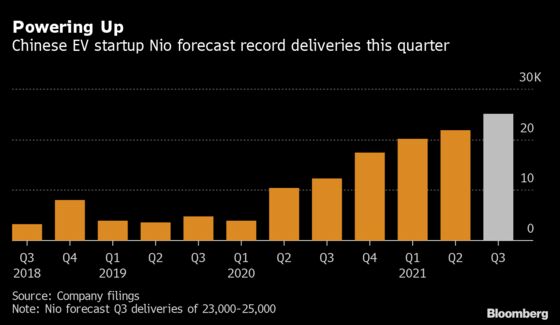 "As the EV adoption begins to reach a tipping point worldwide, we believe it is imperative to speed up the launch of new products to provide more premium smart EV offerings," founder and Chief Executive Officer William Li said in the statement. 
"While the global supply chain still faces uncertainties, we have been working closely with our partners to improve the overall supply chain production capacity," he said.
With its more expensive cars, clubby showrooms and focus on customer loyalty, Nio is seen as one of the closest competitors to Tesla Inc. in China. It is starting to make ground on its more established rival, which is reeling from a run of bad publicity, culminating in the recall of almost every vehicle the California-based company has sold in the nation. 
In July, Nio and fellow EV upstarts Xpeng Inc. and Li Auto Inc. posted local deliveries in line with Tesla, whose domestic Chinese shipments plunged 69% to just 8,621 units.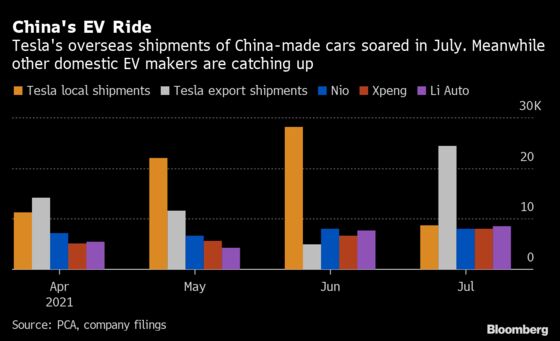 Tesla last month launched a cheaper version of its locally built Model Y SUV crossover, which competes head-to-head with Nio's flagship SUV ES6. The standard-range Model Y will start from 276,000 yuan ($42,600) after government subsidies, 23% cheaper than the starting price of Nio's ES6.
Li said Thursday that Nio is preparing to launch two new models -- other than the already flagged ET7 sedan -- next year, including one cheaper than its current models "as the cost of building an electric vehicle has gone down as volume climbed." 
The automaker will also set up a separate brand to enter the mass market. It won't compete in the lower end of the market, which is dominated by SAIC-GM-Wuling Automobile Co.'s Hongguang Mini, which starts at just $4,500 "but aim at providing better product and much better service than Tesla at a lower price."
The core team for the new brand has been assembled, Li said, without giving more details, such as the timeline.   
Shares of the startup pared a postmarket gain of as much as 1.6% to trade up 0.8% to $44.30. The stock had fallen 9.8% this year as of the close of trading Wednesday.