China Urges Builders to Pay Debts After Default Hurt Trust
(Bloomberg) -- Chinese regulators have told developers they need to meet all their debt obligations including offshore bond payments, according to people familiar with the matter, after an unexpected default cast doubt on the integrity of the market.
Officials from the National Development and Reform Commission and the State Administration of Foreign Exchange told developers at a meeting in Beijing on Tuesday that they must make payments on time if possible, said the people, who asked not to be identified discussing private matters. Any developer that can't meet its debt obligations must inform regulators immediately, the people said. 
The NDRC and SAFE didn't immediately respond to faxes seeking comment.
Offshore bond holders are growing wary that they are left low on a priority list for repayments as the property sector faces a mounting strain on finances stemming from Beijing's deleveraging campaign. A surprise default by Fantasia Holdings Group Co. this month stirred angst among investors because it had earlier signaled that it had sufficient working capital and no liquidity issues.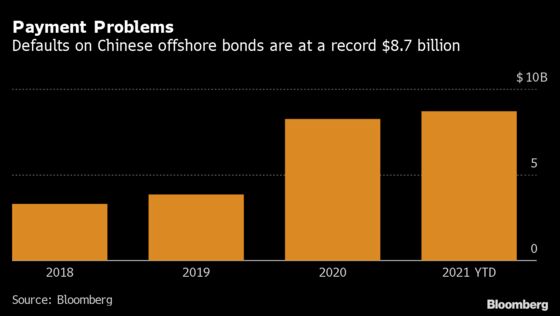 "This may be aimed at reassuring offshore bondholders that they will be treated fairly, alongside the onshore bondholders," Wei Liang Chang, a macro strategist at DBS Bank Ltd., said in an email. 
Regulators gathered together a group of the nation's large and mid-sized developers this week as defaults on offshore bonds from Chinese borrowers climbed to an annual record, with the real estate industry accounting for one-third of that. The eight firms reported on their debts, refinancing and payment plans at the meeting, the people said.
Developers attending the meeting included Henan-based Central China Real Estate Ltd., Beijing-based Sino-Ocean Group Holding Ltd. and Helenbergh China Holdings Ltd., based in Guangdong, according to the people. The three firms didn't immediately respond to requests for comment.
The NDRC, which is also the country's top economic planner, oversees corporate foreign debt issuance and approves bond sales quotas, while SAFE is in charge of companies' foreign-currency payments. In a public statement on Tuesday they called on firms in "some key industries" to make "active preparations" to meet payments on offshore bonds, without naming companies and industries. 
China's real estate sector makes up almost half of the world's distressed dollar-denominated debt, with speculative-grade yields topping 20% earlier this month -- the highest in a decade. 
Modern Land China Co. failed to repay a dollar bond due Monday, though China Evergrande Group made a coupon payment last week before a grace period ended. It faces another expiry on Friday.
Officials from the two regulatory bodies told developers that they'll provide temporary measures to speed up compulsory procedures for dollar bond payments, the people said. SAFE will provide more convenient foreign-exchange arrangements, and the NDRC may accelerate approvals, according to the people. Regulators stressed that the steps are for the near term only, the people added. 
In the statement, the NDRC said it will continue to meet firms' "reasonable needs" for the rollover of foreign debt and repayments, while urging companies to abide by "financial discipline and market rules." 
Some developers spoke of their difficulties at the meeting and asked about the potential for state-backed measures to support the overseas bond market, the people said. One asked authorities to encourage domestic institutions to buy dollar bonds more actively, and another raised the possibility for the government to directly purchase corporate bonds, they said.