China Considers Cut in Parts Tariffs to Aid Local-Built Jets
(Bloomberg) -- China is discussing a plan to cut tariffs on plane parts imported for domestically developed commercial aircraft, a person familiar with the matter said, a move that may also benefit suppliers such as General Electric Co. and Honeywell International Inc.
The Finance Ministry proposal, being reviewed by the State Council, could win approval in a few weeks, the person said, asking not to be identified discussing confidential policy matters. At present, import tariffs on aviation components are as high as 1.5 percent for most-favored nations, and 11 percent for others.
The finance ministry in Beijing didn't respond to a faxed request for comment.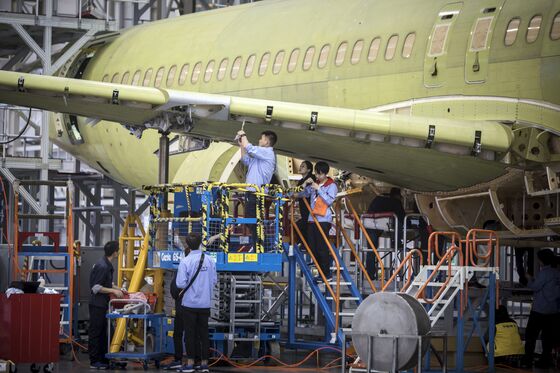 The step would help cut costs for state-owned Commercial Aircraft Corp. of China Ltd., which last year carried out the maiden test flight of the nation's first home-built, single-aisle passenger jet -- the C919. The Shanghai-based company, which has already started delivering a smaller regional jet to domestic airlines, is also in the process of developing a wide-body aircraft, named the CR929, in collaboration with Russia.
The passenger-jet project is part of President Xi Jinping's ambitious "Made in China 2025" program, under which aerospace ranks third on his priority list after information technology and robotics. Xi is seeking to transform China's manufacturing to a level where it can start competing with giants such as Boeing Co. and Airbus SE.
China will need 7,690 new planes worth $1.2 trillion over the next 20 years, according to Boeing, with the world's No. 2 economy poised to surpass the U.S. as the biggest aviation market early next decade.
For plane manufacturing, besides passenger jets, Beijing has also set its eyes on developing heavy helicopters and various types of engine -- in cooperation with global partners. That means, China needs to source components from overseas. Comac's 156 to 168-seat, single-aisle C919 is built mostly with customized versions of parts from other manufacturers.
Some of the key suppliers to the C919 include GE, Honeywell, Eaton Corp., CFM International -- a joint venture between GE and Safran SA that makes engines -- Arconic Inc. and Melrose Industries Plc's GKN.
The C919 has racked up orders and commitments for more than 800 planes from carriers and lessors mostly based in mainland China, according to Comac.
Rolls-Royce Holdings Plc and GE are currently among those in a race to supply engines to the wide-body CR929, which is targeting delivery in the middle of next decade. The manufacturers are pitching turbines based on the ones used to power Airbus's A330neo and Boeing's 787.
The proposal to cut tariffs on plane components is also part of Beijing's pledge to open its economy and foster consumption. In a grand import expo at the beginning of this month, Xi told an international audience that his country is committed to further cutting import taxes and spending more on goods from abroad, signaling new stimulus measures are on the way.