China's Tesla Wannabe NIO Gets Mixed Early Reviews From Analysts
(Bloomberg) -- NIO Inc. fell as much as 5 percent after getting a mixed early reception on Wall Street as analysts initiated coverage on the Chinese electric-car maker with buy and hold ratings. The analysts agreed that NIO should benefit from growing demand for premium battery electric vehicles in China, but some say the stock already looks fairly valued. The American depository receipts are trading below their initial public offering price. Monday's initiations follow the expiration of NIO's quiet period; the stock had already received an underperform rating from Bernstein after one day of trading.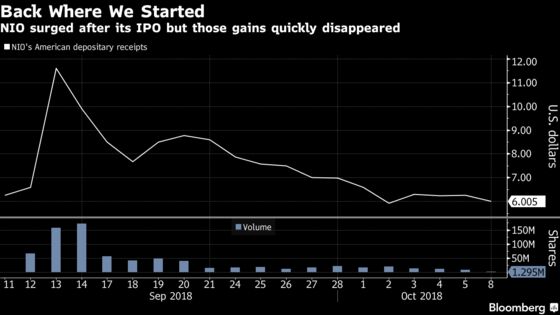 Here's what Wall Street is saying:
Deutsche Bank, Vincent Ha
The start-up is ahead of local and global peers, having already mass-produced its first model with another new model planned for every year.
Ha doesn't expect NIO to be profitable until after fiscal 2020, but says the company could have sustainable earnings beyond that with annual sales of 100,000 units. Ha notes that it took Tesla Inc. seven years after its listing to reach that level of demand.
New buy rating, price target $9.50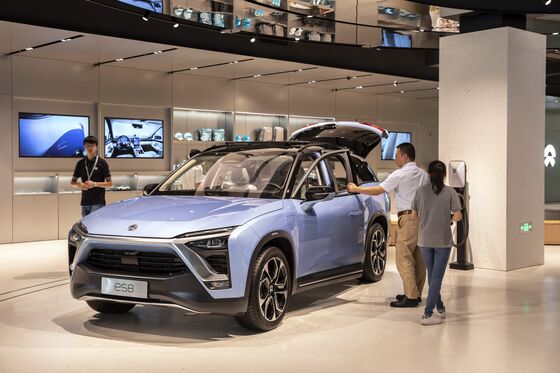 Chung sees NIO as fully valued given risks and lack of profit, despite the company's role as a pioneer in the premium battery electric vehicle market in China.
NIO is the first among domestic brands in the luxury electric vehicle market, and Tesla's Model X is its only competitor.
He expects NIO to turn a profit in 2021 and is positive on the company's long term outlook.
New neutral rating, price target $7.20
Read More: Bloomberg Intelligence says Tesla's china dream at risk as home-grown startups gain traction
Morgan Stanley, Jack Yeung
Yeung expects rapid growth for electric vehicles in China. He sees NIO capitalizing on this growth with a distinct business model and price advantages over foreign competitors.
NIO's direct sales model and user community could lead to more cost efficiency and customer loyalty. The company also boasts a comprehensive charging solution that should ease user concerns about charging.
He expects NIO to become profitable in 2021.
New overweight rating, price target $8.50
Goldman Sachs, Yuqian Ding
NIO has solidified its market leadership in the premium electric vehicle space in China through differentiated product design and strong driving performance.
The current valuation looks balanced when considering risks such as cash burn, competition and production inefficiency.
Key catalysts to watch include demand outlook for NIO's ES8 and ES6 models, gross margin trends, and planning and construction of its new plant in Shanghai.
New neutral rating, price target $6.56