China's Lower Car Tariffs Mean More to BMW Than Ford, Tesla
(Bloomberg) -- China's move to reduce tariffs on imported cars to 15 percent makes little difference to U.S. automakers.
Traditional Detroit brands such as Chevrolet collectively exported fewer than 100,000 vehicles to China last year. The 25 percent tariff that carmakers faced for years led them to open plants with partners in the country to avoid import taxes altogether. And even holdouts like Ford Motor Co.'s Lincoln and Tesla Inc. have plans to build cars there soon.
"I don't think it changes much," Kevin Tynan, an autos analyst for Bloomberg Intelligence, said by phone. "The companies are already established in terms of manufacturing and dealer networks. And 15 percent is still a significant tariff."
Ford did the most exporting among U.S. automakers by shipping almost 74,000 cars to China last year, mostly for its premium brand Lincoln, according to data compiled by Bloomberg Intelligence. But Toyota Motor Corp. and BMW AG both almost tripled Ford's vehicle imports.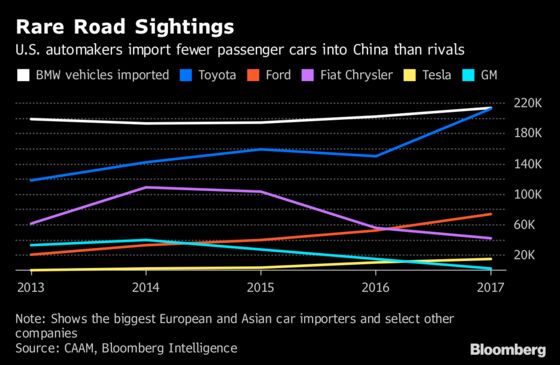 Ford still commended U.S. and China government leaders for "pursuing positive results for both economies" in an emailed statement. And BMW said the lower tariffs send "a strong signal that China will continue to open up."
China is the top export destination for the X3 through X6 sport utility vehicles the company builds in Spartanburg, South Carolina. BMW shipped almost three-quarters of the 371,000 vehicles assembled there last year to other countries.
While Italian-American automaker Fiat Chrysler Automobiles NV will enjoy lower tariffs on Jeep sport utility vehicles, imports have been falling as the company makes more of its models in China. The 16,601 SUVs that the brand imported to China last year were less than a quarter of the total shipped into the country in 2015.
General Motors Co. imported fewer than 2,600 vehicles last year as the company has shifted to building more Cadillacs and Buicks with its domestic joint-venture partners.
Tesla will benefit because China's government provides incentives to new-energy vehicle buyers, and the electric-car maker relied entirely on imports for the more than $2 billion in sales it generated in the country last year. The Tesla brand ranks second so far this year among U.S. automakers, trailing only Ford's Lincoln.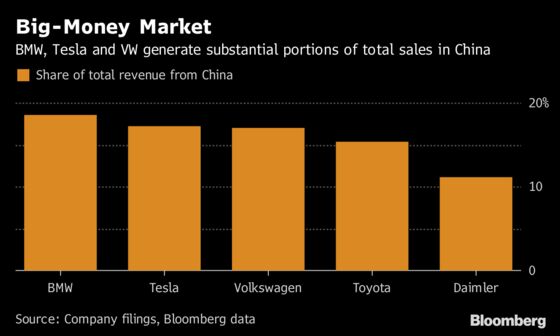 Still, there may not be much of a long-lasting boon to Lincoln and Tesla, since both are in the midst of plans to set up local manufacturing operations. Ford will introduce a made-in-China Lincoln SUV next year. Tesla Chief Executive Officer Elon Musk said the company may announce the location of its first car and battery plant in the country by the third quarter.
Tesla's ability to take advantage of the lower tariff also may be limited by how quickly the company is able to clear manufacturing bottlenecks and boost output from its U.S. car and battery plants. The carmaker's stock fell as much as 3.9 percent Tuesday, while GM, Ford and Fiat Chrysler's shares all rose.
"Tesla doesn't have enough production going to meet the demand they have in the U.S. now," Tynan said.