China's Dollar Bonds Show Trump Value of Government Backing
Chinese and American dollar bonds have both been hammered this month by the probability of a massive hit to corporate revenue from the coronavirus containment measures sweeping the globe.
But Chinese corporate debt is holding up a lot better -- in fact, the premiums on investment-grade dollar bonds out of China are now below those of their American peers. And the Chinese sell-off is only the worst since 2011, not the 2007-09 global financial crisis, as is the case for U.S. high-grade debt.
While there are many reasons for the difference, a key one is investor confidence in the Chinese government providing an effective backstop for important borrowers. What's a no-brainer in Beijing is a much more complex question in Washington, where politics and public appearances play an inevitably significant role. As the Trump administration mulls how to support American companies, the market is showcasing the cost of going without.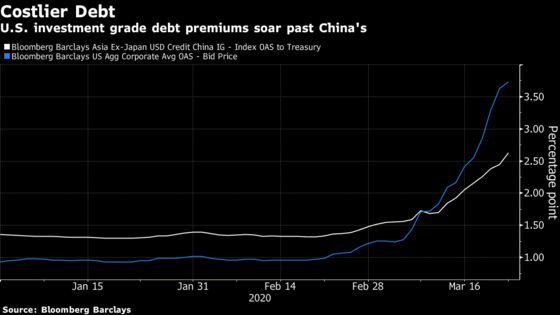 Ironically, China has actually been moving for years closer to the American model of letting the market set corporate financing costs, and rolling back what were once blanket guarantees. Both the dollar and the domestic markets have seen a jump in defaults in recent years. But recent rescues of a regional bank and a major conglomerate underline that Chinese policy makers won't hesitate to shift tack to prevent any wider turmoil.
"China's corporate sector remains more cushioned by the state than others," said Yao Wei, chief Asia & China economist at Societe Generale SA in Puteaux, France. "The experience from the past few years is that Chinese policy makers are careful with debt restructuring of even modestly systemically important firms," she said.
Beijing last month made clear it will use its sway to address important pain points as needed in the debt market.
The China Securities Regulatory Commission said Feb. 2 that given the coronavirus, "it cannot be ruled out that some companies will face a short-term liquidity crunch and will not be able to make payments due on their bonds." The CSRC said it "will actively guide investors to reach agreement" with issuers to help the borrowers "withstand difficult times."
While that might be harder in the offshore market, it's a concept that's hard to envision in the U.S. -- outside of exceptional circumstances, such as the 2008 efforts to avert the collapse of Bear Stearns Cos. or American International Group Inc.
Those and other bailouts during the financial crisis left a sour taste in the mouths of some, who charged that Washington bailed out Wall Street but not Main Street.
President Donald Trump last Thursday said he supports the idea floated by his economic adviser Larry Kudlow of the U.S. government taking stakes in companies that receive assistance during the epidemic -- a way for the taxpayer to get a return on the help.
Yet that was a concept Kudlow himself opposed back in 2009, underscoring its potential sensitivity. On the other side of the aisle, the minority leader of the Senate, Democrat Chuck Schumer, over the weekend complained that a giant Republican economic-support bill included "a large corporate bailout" with insufficient oversight.
While lawmakers remained at loggerheads, U.S. corporate bond premiums dipped on Monday after the Federal Reserve dramatically expanded its safety net for credit.
Bonds in China are by no means immune to pain, and there have been some surprises over the past couple of years about government support that wasn't forthcoming, there's no political red-line with regard to rescuing private companies.
China earlier this month soothed creditor concerns about the mammoth debt load of HNA Group Co., when the state began to assume control of the private conglomerate.
HNA was specifically named by the central bank in 2018 as a private enterprise that could pose a risk to the financial system -- a move that observers concluded was effectively declaring it too-big-to-fail. Its takeover could give solace to bondholders nursing paper losses on China Evergrande Group, one of the nation's top three home builders, which saw its dollar notes due in 2025 slump 7.4 cents at one point Monday, to 59.7 cents on the dollar.
Authorities also this month agreed to inject $1.7 billion into a troubled lender, Bank of Jinzhou Co., underscoring previous efforts to forestall any collapse in confidence with regional lenders -- which are an important source of credit to small and medium-sized enterprises.
"In the current uncertain market environment, government support becomes valuable, especially when there is a track record of government support in the past," said Judy Kwok-Cheung, Hong Kong-based director of fixed-income research at Bank of Singapore. "A significant proportion" of China's dollar-bond issuers have direct or indirect government ownership, she also said.
Policy management on another front might also be helping China: its years-long campaign to scale back leverage in its financial system. Along with a slowdown in economic growth, that helped trigger record defaults in 2018 and in 2019.
"The Chinese equity and debt markets have held up much better," said Michael Shaoul, chief executive officer at Marketfield Asset Management LLC. "This virus crash comes at the end of an 18-month war on shadow banking and de-risking from the trade war. The opposite is true in the U.S."