China Brokers Raise Record Short-Term Debt in Leverage Spree
Chinese securities firms are raising a record amount in short-term bills, taking advantage of cheap, central bank-fueled liquidity as they pile into the nation's battered stocks ahead of the industry's opening to more competition from Wall Street.
Seizing on a market plunge as the nation grappled with the outbreak of the coronavirus, China's brokers issued 312 billion yuan ($44 billion) of short-term bills in the interbank market in the first four months of the year, according to data compiled by Bloomberg. CITIC Securities Co. and China Merchants Securities Co. were the two biggest issuers, raising 38 billion and 33 billion yuan, respectively.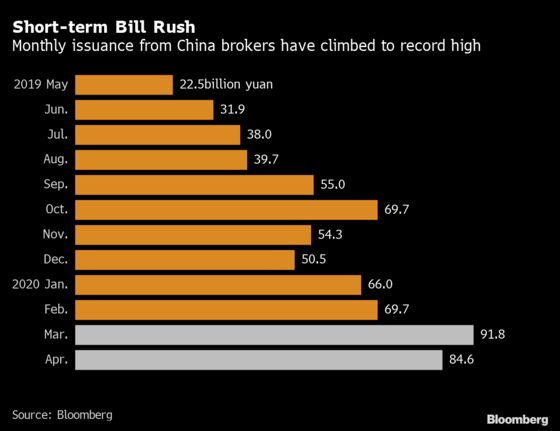 "Most brokers are tapping into the short-term funding to boost investments in proprietary trading or re-lend to clients in margin lending," said Zhang Jingwei, an analyst at Essence Securities Co. "The stock market is at a relatively low point and brokers are more motivated to enhance capital at the moment to buy low."
China's over 130 brokers, with combined assets equivalent to what Goldman Sachs Group Inc. sits on by itself, eked out just half the return of Wall Street rivals last year. They are now seeking to expand their traditional business of serving mom and pop traders by building out a broader menu of investment banking services that require more capital, such as market making and margin financing.
Meanwhile, the opening up of the nation's $45 trillion financial industry this year to full foreign ownership will likely provide a fresh jolt to the sector, forcing consolidation and winnowing out weak players.
Among recent deals, Citic Securities said it issued a 6 billion yuan three-month bill in April to replenish liquidity, according to the prospectus.
Debt issuing costs fell to record lows in April after the central bank injected more liquidity and cut rates, with the average coupon rate on the brokers' short-term bills hitting 1.56%, down 145 basis points from a year earlier, Bloomberg-compiled data show.
A flurry of measures in recent months have kept liquidity ample to support the world's second-largest economy, which is on track for its worst performance in four decades, as the impact of shutdowns to curb the disease outbreak at home is compounded by a slump in global demand as the pandemic spreads.
The liquidity boom likely helped Chinese brokers tide over the unprecedented turbulence at the start of the year. Together the industry delivered profits of 38.9 billion yuan in the first quarter, down 11% from a year earlier, according to the Securities Association of China. Profits were buoyed by strong trading activities even as investment gains almost halved due to the market slump. In April, the 35 listed brokers reported a 119% jump in their combined earnings from a year earlier, according to a note from China International Capital Corporation on Tuesday.
The Shanghai Composite Index has lost 5% this year. The benchmark lagged the MSCI Inc. index of global stocks by the most in almost two years last month.
"Monetary policy has been easing this year to blunt the blow of coronavirus outbreak, by issuing short-term bills brokers can benefit from the ample liquidity," said Liu Yiqian, general manager of the innovation and development division in Shanghai Securities. "It's also a good time for them to add leverage and seize on business opportunities."