China Renaissance, Dealmaker to Tech Stars, Plunges in Debut
(Bloomberg) -- China Renaissance Holdings Ltd., the boutique investment bank that's worked with many of the country's top startups, plunged in its Hong Kong trading debut in the latest example of a high-profile initial public offering that failed to resonate with investors.
The firm's shares fell as much as 19 percent in early trading on Thursday, another first-day flop for the city alongside Xiaomi Corp.'s debut. Only one company had a poorer showing in Hong Kong this year, reflecting the fact that China Renaissance's close ties with the tech industry -- clients include Meituan Dianping and Didi Chuxing Inc. -- wasn't enough to lure buyers.
While the weak debut is disappointing for the bank, it also poses a challenge for Hong Kong Exchanges & Clearing Ltd., which has positioned itself as the international gateway to China's markets. While Meituan jumped on its first trading day this month, IPOs such as Xiaomi and China Renaissance have represented a more typical pattern this year, with newly listed stocks falling 6.7 percent on a weighted-average basis.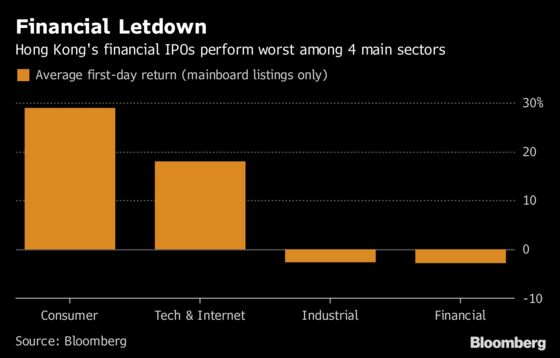 China Renaissance raised $345 million in its IPO, at the bottom of a marketed range, according to data compiled by Bloomberg. It saw weak demand from retail investors, drawing orders for just 0.82 times the amount of stock initially available to them. The portion of the sale reserved for institutional investors was "moderately oversubscribed," the company said in an exchange filing Wednesday.
"We can't predict what will happen near term," Chief Executive Officer Bao Fan said in an interview with Bloomberg Television on Thursday, citing market volatility. "We're very confident about our business performance in the future, so in the end, I'm pretty sure our business fundamentals will prevail."
Revenue at the firm doubled to $108.5 million in the first half, due to a rise in transaction and advisory fees, management fees and interest income across all segments, it said in a filing. The company swung to an operating profit of $20.3 million from a $3.1 million operating loss in the same period last year.
Goldman Sachs Group Inc. and ICBC International Holdings Ltd. were joint sponsors of the listing, while China Renaissance acted as sole financial adviser. ABC International Holdings Ltd. was also among banks that arranged the offering.
China Renaissance isn't alone in trading below its offer price: among companies that have raised at least $100 million in Hong Kong listings in 2018, roughly three-fourths are currently below their IPO levels, data compiled by Bloomberg show.
China Tower Corp., which raised $7.5 billion in the year's biggest IPO, has fallen 7.1 percent since it began trading in August, while smartphone giant Xiaomi has dropped 5.8 percent from its offer price. Ping An Healthcare & Technology Co., known as Good Doctor, attracted a frenzy of orders from retail investors but has fallen nearly 12 percent since its May debut.
Thursday's debut is set to become the second worst among major listings this year, after A-Living Services Co., the property management arm of Agile Group Holdings Ltd., which fell 23 percent on its first day.
Fan, a former Morgan Stanley banker who founded China Renaissance in 2005, said most of the IPO proceeds will go toward the wealth and investment management business. The company's prospectus said funds would also be used for investment banking. The stock was down 15 percent at the lunch break.