China to Announce Resumption in U.S. Soy Purchases Soon
(Bloomberg) -- China intends to announce this month the first batch of U.S. soybean purchases where most, if not all, will be destined for state reserves, according to government officials.
The final decision will be made by the State Council or cabinet, said the people, who declined to be identified as the matter is confidential. Details to be decided include whether the volume should be 5 million tons or 8 million tons and if commercial companies should buy a further 2 million tons and be reimbursed for the 25 percent tariffs, the people said.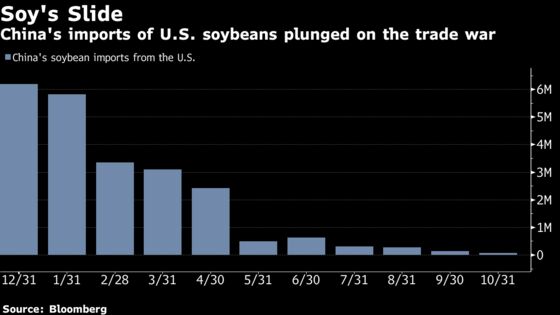 The decision comes just over a week after U.S. President Donald Trump and Chinese counterpart Xi Jinping pledged during the G20 meeting in Argentina to resolve the trade tensions that have disrupted global commodity flows. The resumption of U.S. soybean purchases will provide some relief to American farmers who have seen exports to the world's biggest consumer plummet and domestic inventories pile up.
Read more: China State Firms May Buy U.S. Soy 1st, Top Researcher Says
Ministry of Finance officials led a meeting last week to discuss restarting American imports, the people said. It remains unclear whether the purchases will be made this month and if the shipments will be taxed first and reimbursed later, or if it will follow a cut in tariffs, they said. China's commerce ministry and the finance ministry have not replied to faxes seeking comments.
Expectations of large U.S. soybean purchases have pressured domestic soybean meal prices, said Hou Xueling, analyst with Everbright Futures Co.
"For state reserves, the volume can be any number," said Hou. "But not so for commercial buyers, as U.S. soybeans are not attractive while Brazil's new crop gives good crush margins for plants."
Soymeal contracts for May delivery on the Dalian Commodity Exchange closed at its lowest since June, 2017, on Monday. Soybean futures traded on the Chicago Board of Trade was down 0.5 percent at $9.12 per bushel.