China Dodges a Bullet in Trump's Currency War
Egged on by President Donald Trump, the U.S. Treasury escalated its rhetoric against China in its latest report on global foreign-exchange policies.
While Secretary Steven Mnuchin's department stopped short of calling China a currency "manipulator," that was hardly a realistic option. Under the Treasury's strict set of criteria, any such designation – last imposed in 1994 – would lack credibility.
Instead, the Treasury blasted recent "depreciation" in the yuan, which it said would worsen what's already the largest trade imbalance on the planet, and called for the issue to be addressed in "ongoing discussions" with China. But there aren't any such talks – at least at a senior level.
The irony is that the yuan weakened further after the report, hitting its lowest point since January 2017 and bringing its decline against the dollar for the year to 6 percent.
That could give Trump more ammo for another Twitter-storm slamming China's exchange rate and trade policies, a topic he's all too happy to bring up as the U.S. midterm elections approach.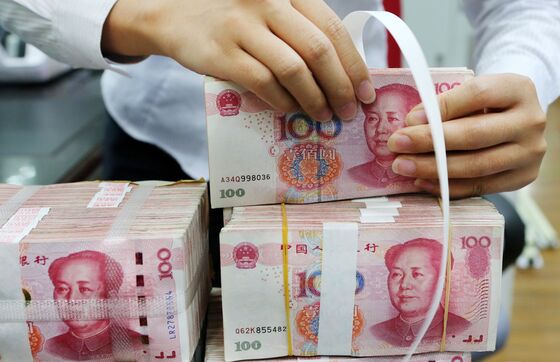 Under pressure | Congressional Republicans, who mostly have been hesitant to challenge Trump, are increasingly voicing their discontent with the president's handling of Saudi journalist Jamal Khashoggi's disappearance. The matter has exposed a widening rift between the White House and Capitol Hill over the U.S. relationship with Saudi Arabia, Toluse Olorunnipa and Daniel Flatley write. Click here for more on the climate of fear in Saudi Arabia.
Extending Brexit | European Union leaders were puzzled by Theresa May's 15-minute address to them last night in Brussels. The U.K. prime minister brought no new ideas on how to break the festering impasse over the Irish border. The bloc's next Brexit get-together is likely to be in December. That won't please business. The most notable development is the prospect of prolonging the terms of Britain's EU membership to buy May more time.
Strategic stance | One of the U.S. Senate's most liberal Democrats is lining up behind Trump on trade as he seeks re-election in Ohio, a state critical to this year's congressional elections and the 2020 presidential race. Sherrod Brown, who is comfortably ahead in polls, sees his stance as a way for Democrats to peel away Trump voters in the industrial Midwest, where promises to restore manufacturing jobs helped propel him to the White House.
Meteoric rise | Polish Prime Minister Mateusz Morawiecki will face the toughest test of his short political career in regional elections Sunday. The former bank chief is pushing a "Poland First" message that has transformed the country into Europe's version of Trump's America. But he's also embroiled in scandal after the leak of recordings in which he makes expletive-laden remarks about having to fawn over Jews and foreigners to get their money.
Mr. Clean v. Mr. Action | Nigeria's presidential race pits incumbent Muhammadu Buhari, who is widely perceived as clean but inefficient, against former Vice President Atiku Abubakar, an entrepreneur who's long been accused of corruption. Paul Wallace and Tope Alake take a deep dive into the programs of the two northern Muslim septuagenarians who are battling to win the February vote for the right to lead Africa's biggest oil producer.
President Vladimir Putin addresses the annual Valdai discussion club of foreign-policy experts in Russia's Sochi today, an occasion he's used in the past to lob sharp criticism at the West.
Trump campaigns in Montana for Republican Senate challenger Matt Rosendale, a day after he tweeted that Democratic incumbent Jon Tester "looks to be in big trouble." Polls suggest Tester has a narrow lead in a state Trump won easily in 2016.
And finally...Environmentalists are up in arms after the Trump administration celebrated reductions in U.S. greenhouse gas emissions – even as it rolls back curbs that could imperil that progress. EPA Acting Administrator Andrew Wheeler credited Trump's "regulatory reform agenda" for a 2.7 percent drop in emissions between 2016 and 2017. The Natural Resources Defense Council's David Doniger accused Trump's team of claiming credit for the effects of Obama-era policy while "trying to destroy it at the same time."