China Bond Rally Takes Yields to January Low as Peers Sell Off
(Bloomberg) -- China's benchmark bond yield is heading for the lowest close since January, another indicator of how the nation's sovereign debt is outperforming emerging-market peers.
The 10-year yield has dropped about 17 basis points since the year's peak in mid-February, bolstered by ample liquidity conditions amid an unexpected slowdown in municipal debt issuance. Even as central banks in Brazil, Turkey and Russia have hiked, tightening fears in China have yet to turn into higher rates.
China's debt market emerged as an alternative haven to Treasuries and other major assets last year, while its loose correlation with the U.S. bonds meant it has largely escaped reflation concerns that have plagued emerging-market peers in 2021. Though global funds were net sellers of Chinese sovereign debt in March, they increased their holdings again the next month, according to data from ChinaBond.
"While most emerging-market debt are sensitive to U.S. rates, China has maintained a fairly independent monetary policy from the Federal Reserve and foreign participation in renminbi bonds remains low," said Winson Phoon, head of fixed income research at Maybank Kim Eng Securities Ltd. "China also continues to benefit from the tailwind of the opening up of its onshore bond market."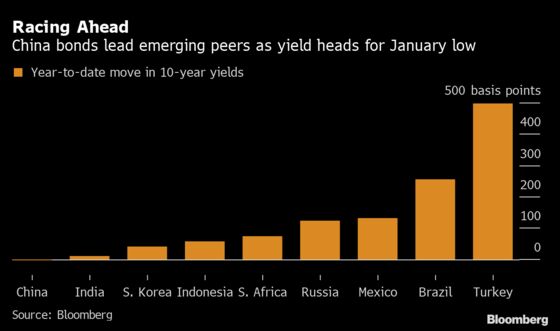 China's 10-year yield dropped two basis points to 3.12% as at 4:41 p.m. in Beijing on Wednesday. It has fallen about three basis points from the start of the year, compared with increases of almost 500 basis points for Turkey, and more than 250 basis points for Brazil.
On a total return basis, Chinese debt has provided a 3.7% gain to dollar-based investors so far in 2021, second only to South Africa's 7.5% among major emerging markets. In Asia, India has returned just 0.1% while Taiwan has seen a loss of 0.1%.
Traders had been bracing for pressure to build in China's debt market as local governments geared up to sell as much as 3.65 trillion yuan ($568 billion) of special bonds this year. Instead, authorities have been drawing on leftover funds and a closely-watched April tax period had passed without causing a liquidity crunch.
New restrictions on projects have also curbed fund-raising activities, said Xing Zhaopeng, a senior China strategist at Australia & New Zealand Banking Group Ltd. in Shanghai. "It's likely no local government will fully utilize their quota this year."