China and Russia Spend Less, But Get More in Europe's Backyard
(Bloomberg) -- To get a sense of China's influence in Europe's Balkan back yard, check out the Serbian town of Smederevo on payday.
That's when Sopranos Pizzeria, a short drive from the Zelezara steel mill that's the area's biggest employer, can't push pepperoni pizzas out the door fast enough and traffic picks up at the clothing store Jasmina Sljukic runs on main square. Hesteel Co. invested in 2016 to keep the factory alive and the significance of the Chinese investor isn't lost on the retailers.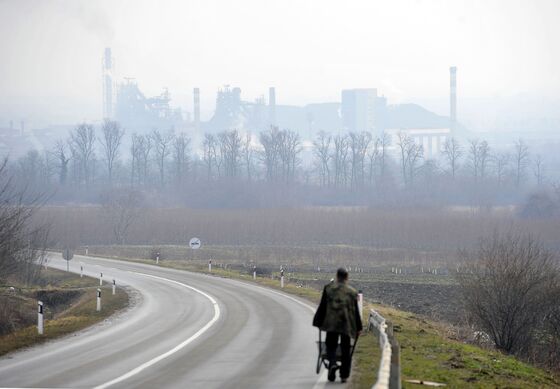 "It would have been a complete catastrophe without them," said Sljukic, 49, surrounded by lace tops, floral summer skirts and other women's garments.
A little goes a long way when it comes to winning the hearts and minds of a region that's lagged other former communist countries in Europe because of war, sanctions and political chaos.
The takeover of the steel mill fits into a string of high-profile investments that raised China's esteem across the Balkans. It, along with Russia, now outshines the European Union, at a fraction of the cost.
Four of the top five biggest investors in Serbia hail from the EU. Yet Serbs think China and Russia are in two of the top three spots, far ahead of Germany, according to a government survey. And with support for joining the EU on the wane, there's growing concern of the organization losing its grip on parts of former Yugoslavia.
"All this has political consequences because it undermines the idea that the EU is the region's best and only hope and, by extension, erodes popular consent for the painful reforms needed to qualify for EU entry," said Timothy Less, an political risk analyst at Nova Europa, a think tank based in Cambridge, England.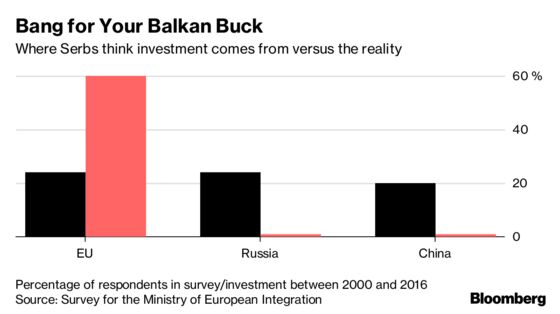 Aspirant EU countries need to adopt strict rules and regulations as well as settle some political differences. Serbia's targeted membership date has been pushed back to 2025 and, if it happens, it would be 12 years after Croatia and more than two decades after Slovenia, the only two former Yugoslav states in the bloc.
In the jostling for influence in the Balkans, perception trumps reality. The 28-nation EU calculates it accounted for 73 percent of all 2017 trade within the non-EU western Balkans, which includes Serbia, Bosnia-Herzegovina, Montenegro, Kosovo and the Republic of Macedonia, as well as Albania. China and Russia each had a share of about 5 percent.
China considers the region a key corridor into Europe, part of its so-called Belt and Road Initiative. Projects include a sea bridge in southern Croatia. Huawei Technologies Co. will upgrade the Serbian phone company, and is building a highway in Montenegro to connect Belgrade and the Adriatic.
Russia, which has ethnic and religious ties across region and especially in Serbia, is working on rail upgrades and has opened a "humanitarian center" in the city of Nis to provide aid.
"A positive attitude to China has been rising," said Srdjan Bogosavljevic, the head of the IPSOS Strategic Marketing consultancy in Belgrade. "It's reached a very high level probably because investments from China are presented or communicated as a gesture of good will. Only the attitude toward Russia is even better."
On an official level, nothing has changed. Serbian authorities including President Aleksandar Vucic have maintained they plan to join the EU, though the independence of Kosovo, a former Serbian province, remains a rough spot in negotiations.
Montenegro and the Republic of Macedonia, which is in the process of settling a dispute with Greece over its name, are also in the pipeline to join.
European lawmakers see the competition between global power centers breaking along lines of interest. While the EU is focusing on the rule of law, aid and business development, the U.S. has put a premium on security, Russia on energy and foreign policy and China on infrastructure and markets, according to the latest report.
"Each partner has its own specific interest and comparative advantage," the European Parliament, the bloc's legislature, said in a study published in November that Serbia "is in an unstable equilibrium."
As a result of Vucic's balancing act and willingness to "entertain all comers," the country's leaders would probably accept a turn in public opinion against the EU, it said.
Still, a policy U-turn would be expensive and risky, according to Steven Blockmans at the Center for European Policy Studies in Brussels. The EU's technocratic approach "is devoid of political clout, which is needed in an increasingly politicized region," he said.
The EU's ambassador to Serbia, Sem Fabrizi, acknowledged a weakness in connecting with the people, even as its money flows in to support projects from improving governance standards and the rule of law to supporting media freedom, civic society and education.
"We're striving for better visibility, more visibility," Fabrizi said in Belgrade. "That's something we're aware of, but I wouldn't say that in the popularity contest we're not in a good position. I see a positive trend, it's an incremental one, we could do better, but it's not that we're losing, on the contrary."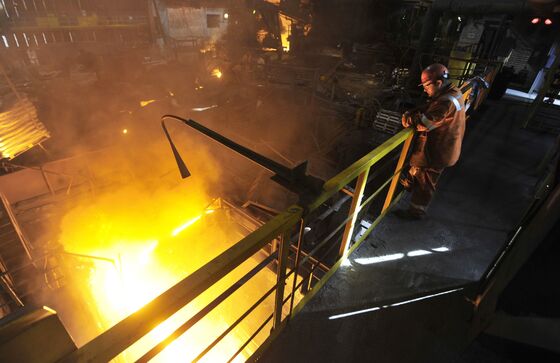 Back in Smederevo, where 1.8 million tons of Chinese steel will roll out of Hesteel's smelters this year, China is helping pay the bills. Next door to Sljukic's clothing store, Tanja Vujovic is finishing her shift at the dry cleaners. To her, there's nothing out of the ordinary about global powers fighting for influence over the country.
"Everybody talks about Serbia's balancing between east and west, between the EU and Russia, but why is that unusual?" she asked as she closed up shop. "It's our destiny, it's been like for centuries, since forever."