Chile Says Sinovac Is 80% Effective Against Death From Covid
(Bloomberg) -- Sinovac Biotech Ltd.'s vaccine is 67% effective in preventing symptomatic Covid-19 infections and wards off 80% of fatalities from the disease, according to a Chilean government study published on Friday.
The report said the Sinovac vaccine was 85% effective against hospitalizations and 89% in preventing people from entering intensive care units. This is the first such evidence showing how well the Chinese shot can protect against Covid-19 after it's been widely used in a population.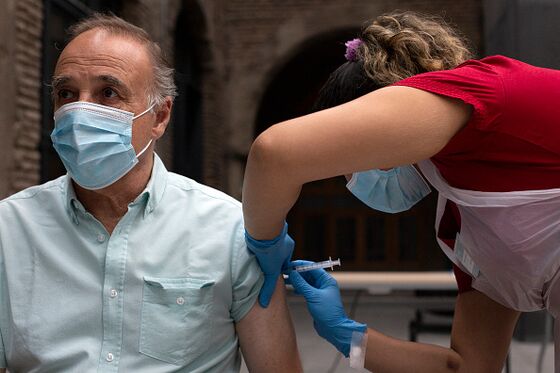 The Chilean health ministry study followed 10.5 million citizens enrolled in the country's public health insurance system and included people that had received one dose, two doses and no dose at all. The efficacy figures were obtained 14 days after the second dose.
While 80% effectiveness against death is significant, "naturally, there is disappointment," Rafael Araos, adviser to the sub-secretary of public health, told reporters. "Nevertheless, it's always expected that real-life results come in lower than the result of a clinical study."
The shot developed by the Beijing-based vaccine maker and so far rolled out in more than 30 countries has faced mounting questions about its efficacy, after data emerged from Brazil that showed it had barely crossed the minimum threshold of 50% in preventing the coronavirus and one of its most worrisome mutations. Nations such as Brazil and Indonesia are dependent on Sinovac's doses to inoculate their populations after the more-effective mRNA vaccines were snapped up mostly by richer nations.
The Sinovac shot's efficacy drops if asymptomatic cases are considered, and that information will likely be included in the final version of the study, Araos said. "Including asymptomatic cases introduces more noise, but the effectiveness of preventing asymptomatic cases of Covid should be around 54% or 55%," he said.
Meanwhile, after only one dose, the vaccine prevents about 16% of symptomatic infections, 35% of hospitalizations and 40% of deaths, Araos said. "The eventual need of a third shot is a topic that can always be discussed, though it is still quite speculative."
Despite having led one of the world's fastest vaccine roll-outs, cases in Chile have continued to spike after virus-related restrictions were loosened at the end of last year. Nearly 40% of the population has received at least one dose while about 27% are fully vaccinated, according to the Bloomberg Vaccine Tracker.
There is evidence that vaccines are starting to work. The number of Chileans aged over 70 who are currently in intensive care units because of Covid is less than half what the number of younger people in ICUs would suggest, according to calculations made by Bloomberg News based on a linear regression through January of this year.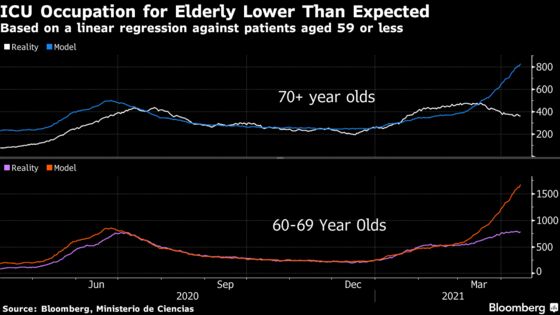 Anecdotal data suggests that the Brazilian variant, currently spreading through Latin America, hits younger people harder than earlier strains, which may partly explain the discrepancy. Nonetheless, the number of ICU patients in the first groups to be vaccinated has actually fallen, even as total patients rose.
While the company and governments worldwide which have ordered Sinovac's shot have defended its merit in preventing mild and severe cases of Covid at far higher rates, general efficacy still lags significantly from as much as 95% observed in mRNA shots developed by Pfizer and Moderna Inc. and the around 80% protection shown in similar inactivated shots from other Chinese and Indian developers.
The Sinovac shot was found to have a much higher efficacy rate of 83.5% in Turkey, where it conducted a trial involving more than 10,000 people, which added to the confusion around the vaccine's real potency. Sinovac has said the low efficacy found in the Brazil trial was in part due to the shorter interval of 14 days between the vaccine's two doses and greater exposure to the virus among its trial participants, all of whom were high-risk medical workers.