Chile's Pinera Survives Impeachment Motion on Pandora Papers
(Bloomberg) -- Chile's billionaire President Sebastian Pinera dodged an impeachment motion brought after the Pandora Papers revealed a potential conflict of interest in his family's sale of a mining project stake. 
The senate's support for the motion reached 24 votes on Tuesday, short of the two-thirds -- or 29 votes -- needed to impeach a head of state. The move clears the way for Pinera to finish his term, which ends in March.
If the motion had passed, Pinera would have been removed and barred from public office for at least five years. The public prosecutors' office is still conducting an investigation into the Pandora Papers revelations.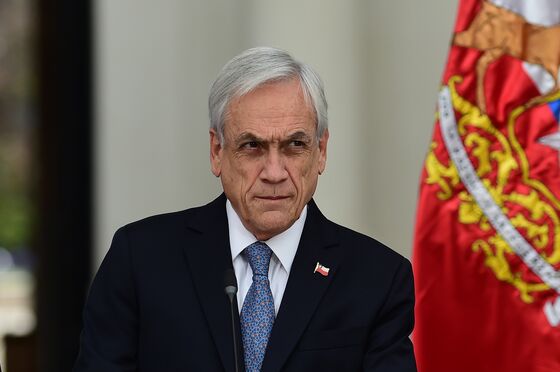 Pinera is ending his term with low popularity and scant influence over local politics. It's the second time he has fended off impeachment during his four-year period. Last week, the lower house of congress voted in favor of the motion on grounds that he violated the constitution through his family's sale of an indirect stake in a $2.5 billion iron-ore project called Dominga.
Pinera was serving his first term as president at the time, and had the last word on any change in status for the zone. He has said his finances were placed in a blind trust when he took office, and that he wasn't informed of the details of the deal. 
The president's defense has also said that he had already been investigated in 2017 regarding the same deal and that the probe did not lead to any charges.
Read more: Chile's President to Be Investigated After Pandora Revelations
Chileans will vote for president on Sunday and an eventual runoff, if needed, will take place on Dec. 19. Pinera can't run for re-election.
Right-wing candidate Jose Antonio Kast and left-wing deputy Gabriel Boric are the two front-runners, and are expected to advance to the second round. 
Pinera and his government have been deeply unpopular since the start of a period of social unrest in Oct. 2019. His disapproval level stood at 78% while only 16% supported the president in November, according to a poll from Cadem published Nov. 14.