Chile Rolls Out Covid-19 Booster Push That Mixes Vaccines
Chile will start to vaccinate residents with a third dose against coronavirus next week in a campaign that mixes shots from different providers, as the government seeks to protect the population from the delta variant.
Starting on Aug. 11, people 55 and older who received two doses of Sinovac Biotech Ltd.'s vaccine earlier this year will start to receive an AstraZeneca shot, health undersecretary Paula Daza said in a press conference Thursday. Under 55s will start in September with a booster jab from Pfizer-BioNTech.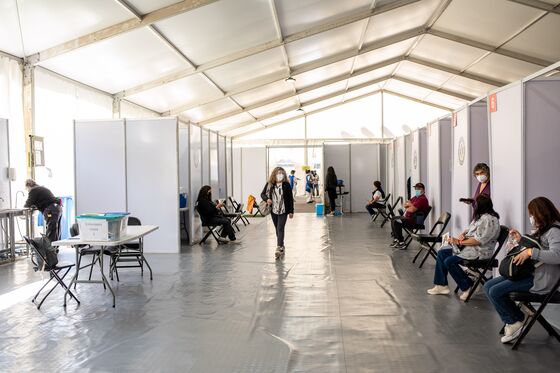 Chile joins countries from Uruguay to Israel in announcing third doses as the world moves to deal with the rapid spread of the delta variant. They are looking past the World Health Organization's calls for a moratorium on booster shots to enable poorer countries to catch up in inoculation rates. Recent studies show the Sinovac shot loses some efficacy over time.
Chile's Health Minister Enrique Paris also announced today that children as young as three will be eligible for their first vaccines once health authorities have granted approval. He didn't specify dates.
Chile is reinforcing a vaccination campaign that's delivered two doses to about 65% of its population, according to Bloomberg's Vaccine Tracker. The move comes even after local virus case counts and hospitalizations plunged in the past month, allowing for a roll-back in restrictions.
This week, Sinovac announced plans to open a vaccine plant in Chile that will also serve other countries in Latin America.