Chile Pledges Record-Low Key Rate Until Recovery Takes Hold
(Bloomberg) -- Chile's central bank held its benchmark interest rate at a record low and said borrowing costs would stay at that level as long as needed for the economic recovery to strengthen.
The bank board, led by its President Mario Marcel, kept the overnight rate at 0.5% on Thursday. In an accompanying statement, policy makers wrote that economic prospects have improved.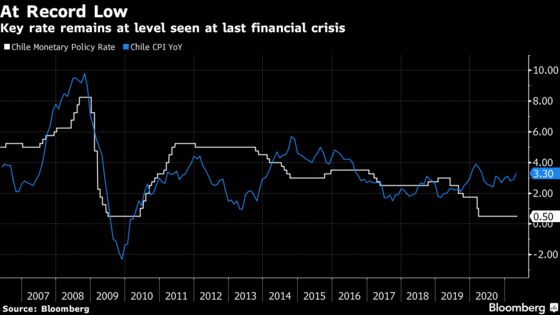 "The convergence of inflation to the target over the policy horizon still requires the monetary stimulus to be highly expansionary," policy makers wrote. They added that the key rate "will be kept at its minimum of 0.5% for as long as it is deemed necessary for the recovery of the economy to take hold," while dropping a previous reference to a time frame of several quarters.
"That change is more hawkish, without a doubt," said Sergio Godoy, chief economist at STF Capital. "While it's not clear if they will raise rates this year, it's now more probable that it will happen."
Chile's central bank is keeping its stimulus in place even amid forecasts of stronger 2021 growth, driven by an effective vaccine roll-out, consumer demand backed by a third round of pension fund withdrawals and higher prices for copper, which is the country's top export. On the other hand, headwinds include high unemployment and a slower pick-up in sectors including services.
What Bloomberg Economics Says

"The central bank is more constructive about the economic outlook and still confident that inflation will remain in line with the target. Together with forward guidance the outlook supports expectations for the central bank to hold the benchmark interest rate in the short term and start slowly increasing it early next year."

--Felipe Hernandez, Latin America economist
Private sector economists raised their growth estimate for this year to 6.2%, according to the central bank's most recent survey published this week. They also see year-end inflation of 3.3%, above the 3% target.
In their statement, policy makers wrote both headline and core inflation have continued to hover around target. Recent prices have been driven by food and gasoline, and board members noted "there has been continued high demand together with production and supply difficulties in several goods."
Rising commodity prices and increasing inflationary pressures have led other emerging markets to raise borrowing costs. Brazil has increased its key rate twice this year and has signaled more increases are ahead.
Policy makers are also on hold as Chile enters what many expect to be a period of fraught national politics. On May 15-16, citizens will vote for members of the body that will write a new constitution, as well as governors, mayors and city council members. The result are likely to shape the upcoming presidential elections scheduled to take place in November.
Since the central bank's last rate decision in March, the government has eased some mobility restrictions, including parts of the capital, Santiago. More than 7 million Chileans have already received two doses of vaccines, out of a total population of over 18 million.