Chile Inflation Tops All Forecasts in Test for Central Bank
(Bloomberg) -- Chile's consumer prices rose more than expected in July on broad-based gains, blowing past the target range ceiling and challenging the central bank's plans to gradually raise its interest rate.
Annual inflation reached 4.5%, the highest level since March 2016, the national statistics institute reported on Friday. Chile's central bank targets inflation at 3%, plus or minus one percentage point. On the month, prices rose 0.8%, above all forecasts in a Bloomberg survey that had a 0.4% median estimate.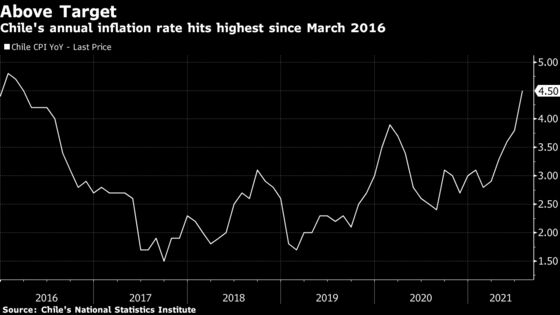 Chile's central bank has laid out plans for gradual tightening as it weighs above-target inflation and firmer growth against economic risks. Cost of living increases have been driven by fuels and demand for consumer goods as the virus recedes. This week, the government took steps to cushion the impact of rising prices at the pump after months of sustained rises.
What Bloomberg Economics Says

"Higher than anticipated inflation in July points to broad pressure on prices and support expectations for the central bank to continue rising interest rates. The surprise could open the door for policy makers to consider hikes of more than 25 basis points."

--Felipe Hernandez, Latin America economist
In July prices rose in nine of 12 categories surveyed by the the statistics institute. Transportation costs increased by 1.7% on the month as gasoline jumped by 3.1%, while food and non-alcoholic beverages rose by 1%. On the other hand, clothing costs fell by 0.4%.
Chile is far from the only Latin American country facing sharper cost of living increases. This week, Brazil's central bank sped up the pace of its interest rate hikes as annual inflation is seen nearing 9%, while Peru's consumer price rise in July was double analyst estimates.
Going forward, Chile's consumer prices may face more upward momentum from a weakening peso, which has dropped 4% in the past month, the most among emerging market currencies. A weaker exchange rate makes imports more expensive.
At the same time, economic activity has surprised analysts on the upside for three straight months. Chile's government has also relaxed restrictions in areas including travel and the number of people allowed in stores as Covid vaccinations advance and cases drop.
"The economic recovery gathered momentum in the second quarter and the labor market is on the mend, despite some recent volatility," Andres Abadia, Chief Latin America Economist at Pantheon Macroeconomics, wrote in a note. "We reckon that inflation will continue to be a concern for policy makers."
Policy makers expect annual inflation to reach 4.4% in December as the economy grows 8.5%-9.5%, according to estimates published in June.