Chile Clamps Down With New Covid Limits Despite Vaccine Success
(Bloomberg) -- Chile announced a series of new restrictions aimed at slowing a surge in coronavirus cases that's tarnished one of the world's fastest vaccine roll-outs.
All neighborhoods in the Santiago metropolitan region, which is home to 40% of the nation's population, will be under strict weekend quarantines as of March 13, according to a Health Ministry announcement on Thursday. A nationwide nightly curfew will be extended, stores will be forced to close earlier and gyms and casinos will face new operating rules.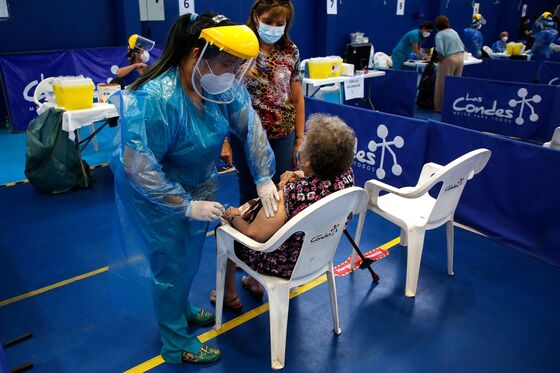 The fresh restrictions will temper the optimism that's been building as Chile implements one of the world's fastest Covid vaccination drives. Health Minister Enrique Paris has warned of a sharp rise in cases coinciding with the end of summer holidays in early March. Meanwhile, the central bank has said the economic recovery may experience setbacks if tougher limits are imposed.
Chile reported 5,556 new virus cases on Thursday, which is on a par with the number of daily infections recorded during the country's first virus peak in June. The test positivity rate was 8.74% nationally and 8% in the Santiago metropolitan region, according to the Health Ministry.
In recent weeks, the government has put smaller cities such as Valparaiso and Concepcion under mandatory quarantines that last the entire week. Policy makers also implemented new rules for travelers arriving from Brazil amid fears of a rapidly-spreading virus variant in that country.
As the virus spreads, Paris has reiterated that Chile will vaccinate its entire target population by the middle of the year.