Chicago Police Officer Guilty of Murder in Shooting Black Teen
(Bloomberg) -- Chicago police officer Jason Van Dyke has been found guilty of second-degree murder and 16 counts of aggravated battery in the fatal 2014 shooting of black teenager Laquan McDonald.
Van Dyke, who was escorted out of the courtroom after his bail was revoked, was found not guilty of official misconduct. The verdict will be appealed, Kevin Graham, president of Fraternal Order of Police Chicago Lodge 7, told reporters.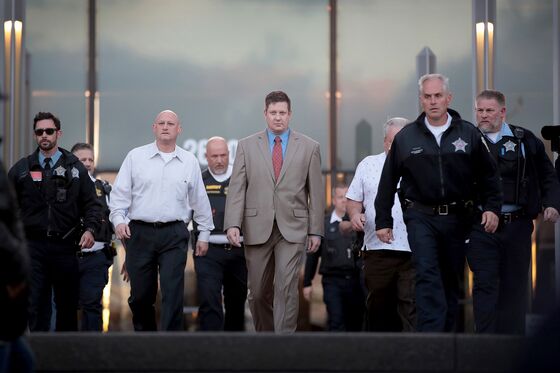 The Chicago Police Department -- and Mayor Rahm Emanuel -- faced intense scrutiny in the wake of the shooting of 17-year-old McDonald, following a spate of controversial police shootings in other parts of the country, including Ferguson, Missouri, which sparked days of civil unrest.
Some of the city's most prominent black leaders praised the jury's decision.
"Today's verdict shows that law enforcement will be held accountable for their egregious and unjustified use of force," U.S. Representative Bobby Rush, a Chicago Democrat, said in a statement. "This tragedy has torn Chicago apart and now is a time for healing and quickly reforming our law enforcement agencies. I call on my fellow Chicagoans to rise to the moment and show the country and the world how we will channel our pain and anger into a constructive force."
The city's schools and businesses had been bracing for possible violent protests. But one of Chicago's leading community activists, Father Michael Pfleger, said he expects protests to be muted. Pfleger, whose congregation is located on Chicago's South Side, said it was important the verdict was not just for aggravated battery, even though that potentially carries a lengthier sentence.
"Thank God it was for murder," Pfleger said.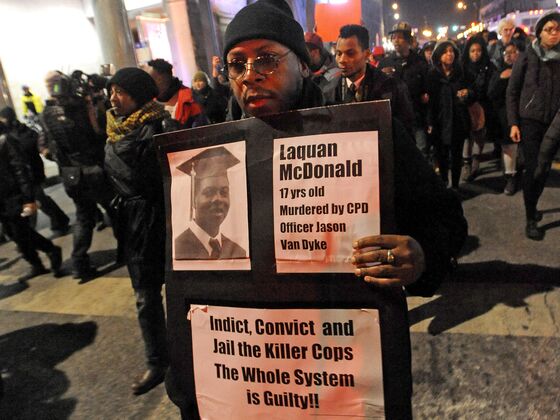 McDonald was shot 16 times by Van Dyke in October 2014. The shooting triggered protests when a video of the incident was released more than a year later. Van Dyke, who took the stand earlier this week, said he acted in self defense. Police earlier said that McDonald, who had PCP in his system, had been behaving erratically and didn't obey orders to drop a folding knife.
The case proved to be one of the biggest political challenges for Emanuel, who announced last month that he wouldn't run for re-election next year. One of his most bitter critics, the Chicago Teachers Union, used the verdict to take another swipe at him.
Union President Jesse Sharkey said the verdict showed that the jury recognized "the tragedy that befell" McDonald, who had attended Chicago Public Schools. Then Sharkey added: "Our city, however, is still suffering, and reeling from the tenure of a mayor who systematically closed schools, used public dollars to pay police settlements and ultimately covered up Laquan's murder for political and capital interests."
Illinois Fraternal Order of Police State Lodge President Chris Southwood ripped the jury's verdict.
"This is a day I never thought I'd see in America, where 12 ordinary citizens were duped into saving the asses of self-serving politicians at the expense of a dedicated public servant," Southwood said in a statement. "This sham trial and shameful verdict is a message to every law enforcement officer in America that it's not the perpetrator in front of you that you need to worry about, it's the political operatives stabbing you in the back."