Chewy Rallies as CEO Sees More Sales Growth in E-Commerce Shift
(Bloomberg) -- Chewy Inc. gave a 2021 sales forecast that topped Wall Street estimates, as new and old pet owners use its online platform to stay stocked up on food and toys for their companion animals even as restrictions related to the pandemic ease in much of the U.S.
"The dynamics of the past year have provided us an advanced look into Chewy's future and we believe that future is bright," Chief Executive Officer Sumit Singh said in an interview. The boost for e-commerce in general is "here to stay" and the company believes it's positioned well to capitalize on the continued growth, he said.
Chewy expects net sales between $8.85 billion and $8.95 billion in 2021, which compares with the average analyst estimate of $8.85 billion and implies about 25% growth compared to last year. The company is still in the early innings of acquiring customers and driving growth, Singh said.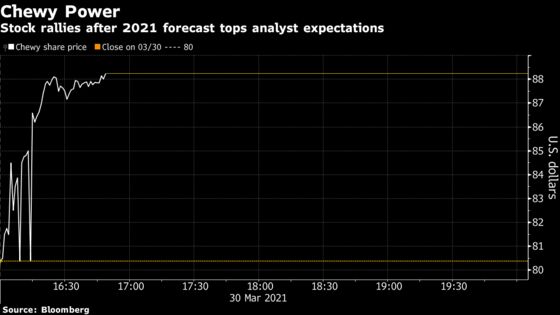 Shares climbed as much as 10% to $88.74 in late trading Tuesday after the results. Chewy has more than doubled over the past year, though the stock had slumped 33% from a record high in February.
The company expects first-quarter net sales of $2.11 billion to $2.13 billion, higher than the average estimate for $2.05 billion. While some on Wall Street have been antsy to hear more from Chewy on plans to expand its offerings globally or strike deals, Singh said the company remains focused on its current offerings.
"In terms of core M&A or geographical expansion, my answer hasn't changed too much around the fact we do believe that our proposition is expandable to other geographies, but we're squarely focused on the United States," he said.
The online pet-products retailer reported a surprise profit for the fourth-quarter with a net income of $21 million. Chewy's fourth-quarter sales of $2.04 billion also topped analyst expectations for $1.96 billion.
Chewy in part credited the pandemic as a driver for millions of new customers who adopted pets and used its online services. The company says its customer base grew by 43% to 19.2 million active users.
"We saw a 35% increase in pet profiles created for puppies or kittens and a 40% increase in profiles for adopted pets," Singh said. "That's great because the Chewy puppy is going to grow up and eat more food, shred more toys, and require more health needs next year."