Chevron Cuts Budget, Warns of Profit Pain in Worsening Rout
(Bloomberg) -- Chevron Corp. is slashing capital spending for the second time in five weeks, accelerating supply curbs and warning that profits will suffer as the oil-industry spiral deepens.
Full-year spending will be as much as 13% lower than previously planned, the world's No. 3 oil explorer by market value said in a statement Friday. Chevron also plans to shut down as much as 400,000 barrels of daily output and retire 60% of the drilling rigs it has under lease.
The measures come after Chief Executive Officer Mike Wirth first took drastic steps to conserve cash and slow output growth as the Covid-19 outbreak paralyzed economies and swelled a worldwide supply glut.
Oil bosses like Wirth are facing a disastrous collapse in crude demand and prices that's unlike anything seen in at least half a century as public health lockdowns idle billions of people. Worldwide oil demand is forecast to slump by more than twice the annual declines seen during the worst days of the 1980s recession.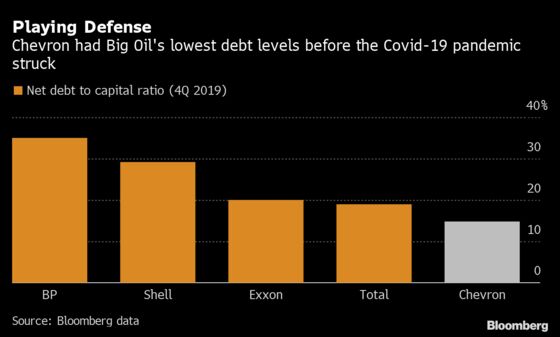 "Financial results in future periods are expected to be depressed as long as current market conditions persist," the company said in the statement.
The freefall in oil prices has already wiped out tens of thousands of jobs, erased billions of dollars in planned spending and pushed some companies into bankruptcy. Drillers have even had to contend with a heretofore unimaginable specter: sub-zero crude prices.
Chevron's first-quarter net income rose to $1.93 a share, adjusted for one-time gains and losses, from $1.39 a year earlier. The company's worldwide production rose 6% compared with a year earlier to the equivalent of 3.24 million barrels a day, a record for any quarter.
Full-year output will be about even with 2019, the company said.
To follow our live blog of Big Oil earnings, click here.
Oil companies around the world are in retrenchment mode, shutting wells and canceling new projects as refiners slow or halt crude processing, and storage tanks fill to the brim. Almost one-fifth of U.S. oil production is expected to cease this year, according to IHS Markit Ltd.
Wirth's latest measures come a day after Royal Dutch Shell Plc cut its dividend for the first time since World War II, and ConocoPhillips deepened output cuts to encompass one in every three barrels it pumps. Earlier in the week, Exxon Mobil Corp. froze its dividend for the first time in 13 years.
Shell CEO Ben van Beurden issued an ominous warning about permanent, post-Covid-19 mutations in consumer behavior that will have dire impacts on how the oil industry operates.
Exxon is scheduled to disclose quarterly results later Friday.