Chesapeake CEO Rejects Founder McClendon's Wide-Open Gabfests
(Bloomberg) -- Chesapeake Energy Corp. CEO Doug Lawler's frugality with payrolls and drilling budgets apparently extends to the spoken word.
Lawler sticks to his bullet points during earnings calls and rarely allows those events to go much beyond the half-hour mark. That's in stark contrast to his voluble predecessor, late founder Aubrey McClendon, who treated quarterly calls as venues to proselytize for the virtues of methane.
In the last 12 months, the average length of a Chesapeake earnings call came in at a tight 36 minutes, about half the amount of time burned up by McClendon's calls during his last year in charge. McClendon's longest call during that period went an hour and 15 minutes.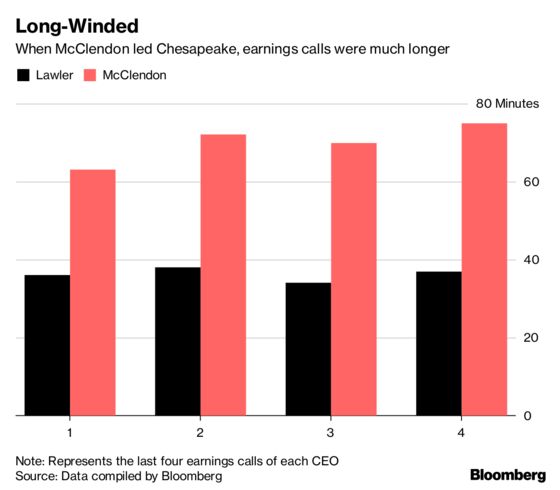 Lawler's penchant for brevity means that just a handful of those who dial in get to pose a question, including on Wednesday, when a grand total of three analysts were permitted to talk.
Two who seem to never have to worry about getting frozen out are Neal Dingmann of Suntrust Robinson Humphrey Inc., the lead-off questioner on four straight calls. Second runner-up has been Johnson Rice & Co.'s Charles Meade, who made appearances in three of the past four calls. Both analysts have had the equivalent of "buy" ratings on Chesapeake since July 2015.
Chesapeake spokesman Gordon Pennoyer declined to comment. Neither Dingmann nor Meade immediately returned calls.