Chemicals Maker Sabic's Profit Surges as Economies Reopen
Chemicals maker Saudi Basic Industries Corp.'s profit jumped as the reopening of the global economy led to higher demand for its products used in everything from packaging to buildings and agriculture.
Net income was 4.86 billion riyals ($1.3 billion) in the first quarter, more than double the level of the previous three-month period. It was also turnaround from a loss of 1.05 billion riyals a year ago.
"The first quarter saw rising oil prices and a tight supply and demand balance," said Chief Executive Officer Yousef Al-Benyan. "These elements, combined with growing demand as the global economy continues to recover, resulted in higher prices and margins for most of our products."
Sabic Returns to 1Q Profit; Expects Level of Margins Continuing
While sales volumes fell 8% from the fourth quarter, average prices rose by 22%, the Riyadh-based company, controlled by Saudi Aramco, said Thursday. Margins are expected to remain at similar levels through June, it said.
Revenue rose 24% year-on-year to 37.5 billion riyals and 14% from the previous quarter.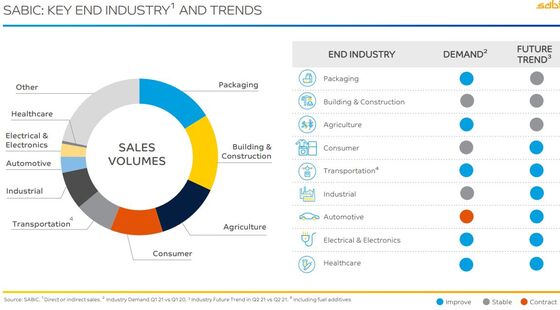 Sabic benefits from subsidized raw materials such as oil and gas from its parent.
The company didn't provide any update on the potential initial public offering of its specialty unit.
The shares fell 2.5% to 124.60 riyals at 11:15 a.m. in Riyadh on Thursday, paring some of Wednesday's gain of 6.5% gain. The company's stock is up 74% in the past year and its market value rose above $100 billion this week for the first time in almost two years.