ChemChina Is Said to Mull Cutting Stake in Tiremaker Pirelli
(Bloomberg) -- China National Chemical Corp. is considering reducing its stake in Italian tiremaker Pirelli & C. SpA as part of a strategic review of the Chinese group's overseas investments, according to people familiar with the matter.
ChemChina, as the state-owned firm is known, is considering a number of options for its stake, including a block sale on the market that would increase Pirelli's free float or selling to an investor, they said. Discussions are at an early stage and no final decisions have been made on the size or the timing of the potential sale, said the people, who asked not to be identified because the deliberations are private.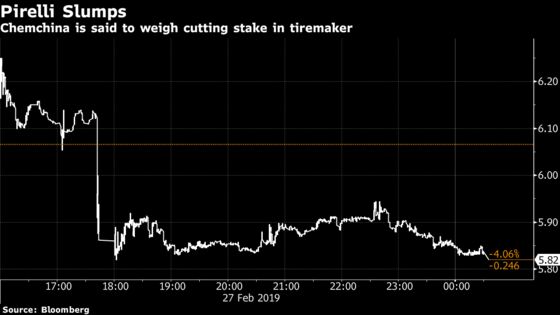 ChemChina's indirect interest in Pirelli is worth about 2.1 billion euros ($2.4 billion) based on Tuesday's closing price, according to data compiled by Bloomberg. The Chinese group controls Pirelli's biggest investor, Marco Polo International Italy, which owns around a 45 percent stake in the Italian tiremaker.
Any transaction would depend on ChemChina getting an attractive price for the shares, the people said. A representative for ChemChina didn't immediately answer phone calls and a fax seeking comment.
"Rumors circulating in the market with regard to the reduction by ChemChina of the stake held in Pirelli through block trades on the market are, in my view, pure speculation and, from a financial point of view, not imaginable," Pirelli Chief Executive Officer Marco Tronchetti Provera said in a statement.
Pirelli shares fell 4.1 percent Wednesday to 5.82 euros at the close in Milan, giving the company a market value of 5.8 billion euros.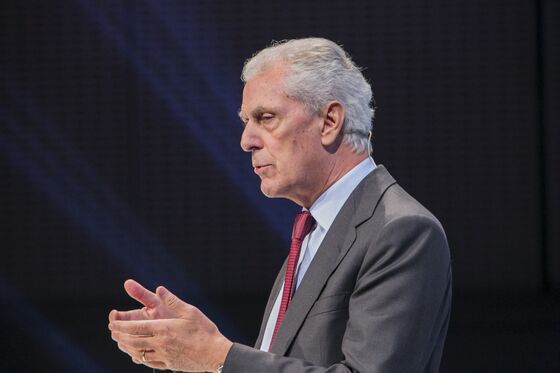 "We're very happy with ChemChina as a stakeholder, because we have very clear agreements," Tronchetti said Monday in a Bloomberg Television interview. "They're a financial investor that is really supportive without interfering in the management."
The Chinese conglomerate is looking for ways to reduce debt from its $43 billion purchase of Swiss pesticide producer Syngenta AG in 2017. ChemChina has been studying potential asset sales as it moves ahead with preparations for a long-mooted megamerger with state-owned Sinochem Group, people familiar with the matter said in September.
Pirelli, which makes tires for luxury brands including Ferrari, McLaren and Bentley, generates about 83 percent of its profit from high-value tires. The company is expecting double-digit growth in its Chinese market this year.