Turkish Inflation Jump Delivers Blow to Erdogan Rate Cut Hopes
A surprise jump in Turkish inflation pushed the nation's benchmark interest rate adjusted for price growth into negative territory for the first time since October, dealing a blow to President Recep Tayyip Erdogan's hopes for an early cut in borrowing costs.
Prices rose for a third month to an annual 19.25% in August, up from 18.95% in July. The median estimate in a Bloomberg survey of 21 analysts pointed to a deceleration to 18.75%, with one-third of economists forecasting some rising commodity and food prices would push inflation higher.
The lira depreciated against the dollar after the data, and was trading 0.5% down at 8.3214 at 10:38 a.m. in Istanbul.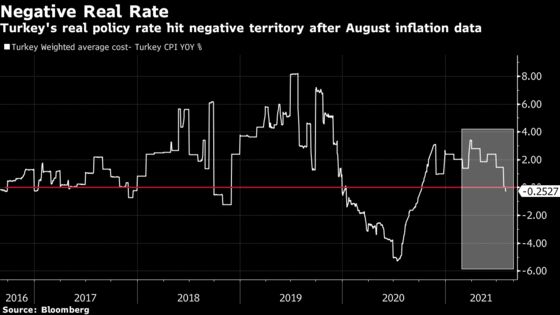 The unexpected increase brought Turkey's real interest rate to negative 25 basis points, posing a further challenge for central bank Governor Sahap Kavcioglu. He has pledged to keep the benchmark above inflation but has faced calls from Erdogan to deliver a rate cut as early as this month. 
Kavcioglu told investors Wednesday that price growth will enter a decelerating trend in the fourth quarter, according to people who attended the meeting. 
"Further acceleration in inflation confirmed that the tightening cycle ended prematurely in March following yet another dramatic reshuffling at the CBRT," said Piotr Matys, a senior currency analyst at InTouch Capital Markets Ltd., using the short form for Turkey's central bank. "The policy rate should have been higher, but Governor Kavcioglu hasn't been appointed to keep raising it, but seemingly to prevent further hikes."
The data set the governor on a possible collision course with Erdogan, who last month restated his unorthodox view that higher interest rates exacerbate inflation. "It is not possible for inflation to accelerate further from now on, because we're transiting to lower interest rates," he said. Erdogan has fired three of the previous bank governors.
Deutsche Bank economist Fatih Akcelik is among the few analysts who correctly predicted the rise in inflation. "Considering the challenging external backdrop, in combination with the higher inflation profile, we expect two 50 basis-point cuts, one in each November and December," he said before the data.
The currency is down more than 13% since the abrupt appointment of Kavcioglu as central bank governor in March. Kavcioglu, who kept interest rates unchanged at 19% for a fifth meeting last month, is the fourth governor of the central bank since 2019, with the president firing his three immediate predecessors.