Cheap Stocks May Boost West African Bourse After Rotten 2018
(Bloomberg) -- Cheap valuations on West Africa's regional stock exchange are tipped to improve its attractiveness as strength in two of the continent's fastest-growing economies helps spur a rebound from a record slump last year.
Stocks traded on the Bourse Regionale des Valeurs Mobilieres -- an exchange covering seven Francophone countries and Guinea-Bissau -- could be among Africa's best performers in 2019, said Aly-Khan Satchu, chief executive officer of Nairobi-based Rich Management Group, an adviser to companies and wealthy individuals.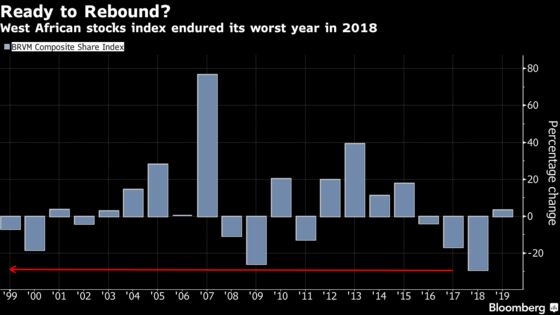 Before Tuesday, the BRVM Composite Share Index of 45 companies had gained 3.8 percent this year after plummeting by almost a third in 2018, its worst 12 months to date. Gross domestic product of the bloc's two biggest economies, Ivory Coast and Senegal, is forecast to expand by more than 6 percent for a fifth straight year and support stronger company earnings in these markets, Satchu said by phone.
"The disconnect between the underlying GDP expansion and the performance of the stock market tells me that we've got to start narrowing that gap," he said. "It's fundamentally undervalued."
Wireless operator Sonatel SA, which accounts for 40 percent of the index's valuation, is the second-best performer in 2019, with gains of 25 percent. While the unit of Orange SA last week posted flat full-year earnings, it remains undervalued, said Kadi Fadika-Coulibaly, CEO of brokerage Hudson & Cie in Ivory Coast's commercial capital, Abidjan, which houses the bourse.
"Sonatel's stock is coping with the bearish trend in the market and should be regarded as a high-yield stock," said Fadika-Coulibaly, who has a buy rating on the company.
Societe Ivoirenne de Cable, or Sicable, is the market's best-performing stock, up 50 percent this year. Publisher Nouvelles Editions Ivoiriennes has gained 18 percent as the third-best. The benchmark dropped 1 percent Tuesday.
Banks, which account for a third of the benchmark, should benefit from improved sentiment now that the liquidation of Ivorian cocoa shipper Saf Cacao has been wrapped up, Abidjan-based ratings company Bloomfield said in a report last month. Among the biggest cocoa shippers in the world's No. 1 producer of the chocolate ingredient, Saf Cacao collapsed under the weight of 150 billion CFA francs ($260 million) of unpaid debt.
Societe Generale's Ivorian unit has gained 8 percent this year, compared with a 36 percent plunge in 2018.