Cheap Money Lures Latin American Companies Back to Bond Markets
(Bloomberg) -- Low interest rates are proving irresistible for Latin American corporations.
With central banks cutting borrowing rates and investors hungry for yield, borrowers returned to debt markets both at home and abroad in recent weeks. They're brushing off an economic slowdown and political uncertainty in the region that was keeping them on the sidelines, reversing the outlook for what was on pace to be a slow year for bond sales.
After a spate of issuance since the start of September, companies' dollar-denominated debt sales will soar about 30% this year to more than $50 billion, according to Fitch Ratings. Corporate bond sales are on pace to hit a record in Brazil, which is leading a revival of local debt markets. And while most of the fund raising is for liability management, an increase in leverage in the region shows companies from Mexico to Chile have borrowed to pay for new investment plans, signaling an optimistic outlook on growth.
"We should see the corporates return to the market to fund growth capex," said Omotunde Lawal, a portfolio manager at Barings, which manages about $4.3 billion in emerging market corporate debt. Companies "hadn't been in the market for various reasons such as electoral cycle, recession, etc. Therefore, debt levels had come down."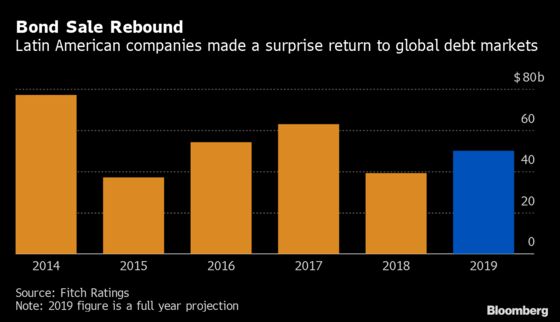 Of course some of the largest debt sales this year were from companies taking advantage of low rates to refinance debt due over the next two years. That was the case for some of the region's largest companies, including Mexico's state-owned oil major Pemex, which sold $7.5 billion of bonds to refinance short-term debt, and Brazilian meat packer JBS SA, which sold $2 billion in notes to pay off notes with higher coupons.
"Definitely a big chunk of it is proactive liability management," said Jay Djemal, senior director of Latin America credit research at Fitch.
Yet, there are signs more companies are going into expansion mode. In the past month, the world's largest copper miner, Codelco, miner Minera Mexico and Argentina's YPF SA have sold debt to fund investments. Even an issuer from Paraguay, Rutas 2 & 7 Finance Ltd., was able to tap the international market by selling $457.6 million of zero-coupon notes to yield 5% in a deal handled by Goldman Sachs Group Inc. and Itau Unibanco Holding SA.
The Paraguay sale represented a record-low yield for a non-investment grade bond from Latin America with a duration of at least 10 years, according to Baruc Saez, Itau's head of investment banking for the region.
That jump in sales could continue into next year if economic activity picks up. The regional expansion is forecast to accelerate to 2% next year from 1.1% in 2019, according to the median estimate of economists surveyed by Bloomberg.
"As growth returns to countries like Mexico and Brazil, you'll see more capital expenditures and borrowing," Lawal said.
Net debt to Ebitda ratios -- a key indicator of indebtedness -- are expected to inch up by the end of the year to 2.35 times, from 1.94 at the end of 2018. Debt levels of companies in the MSCI Emerging Markets Latin America Index had been trending downward since 2016, according to data compiled by Bloomberg.
Central banks in Mexico, Brazil, Peru and Chile have cut rates in recent months to try to spur economic growth. Cheaper borrowing costs have led to an uptick in local debt sales, a trend that is most pronounced in Brazil, where a record 117 billion reais ($28 billion) of notes have been issued by companies.
Another $3.2 billion will come before year's end, according to XP Investimentos SA, the country's biggest brokerage. About half the sales will be in tax-exempt instruments, which can't be used for debt refinancing. Bankers say they're seeing a shift from liability management to funding for acquisitions or long-term capital expenditures, and investors shifting into corporate bonds as rates on government debt fall.
"We expect to see an increase in financing for investments and even a greater increase of the significance of the capital market in funding," said Felipe Wilberg, the global head of debt capital markets for Itau.