Charts Show What to Look for in Godongwana's South Africa Budget
South African Finance Minister Enoch Godongwana is set to deliver his first mid-term budget on Thursday, buoyed by faster-than-expected economic growth and windfall revenue from the mining industry.
Still, investors will look to the former labor unionist and head of economic transformation in the ruling African National Congress for concrete steps to lower debt and reduce the country's fiscal deficits. Here's what to look out for as he presents the revised fiscal framework for the next three years.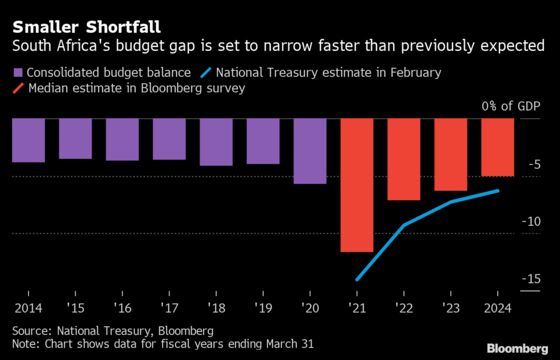 With the economy 11% bigger after a statistics agency review, and tax and mineral royalty revenue set to beat forecasts, the budget deficit will narrow faster than what was expected in the February budget. Economists in a Bloomberg survey predict a shortfall of 7.1% of GDP in the fiscal year through March 2022, compared with the National Treasury's estimate of 9.3% of GDP.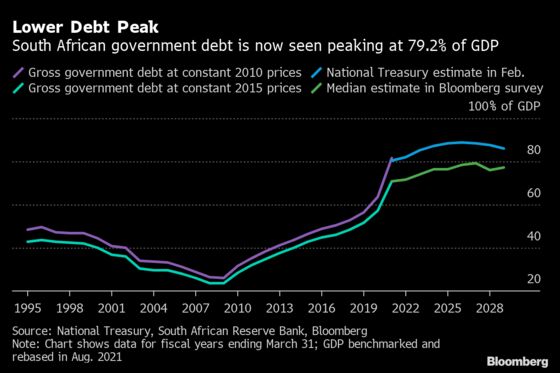 The changes to the way GDP is calculated will also result in significantly lower debt ratios. Still, levels will continue to rise, peaking at 79.2% of GDP in the 2027 fiscal year, according to the median of seven economists' estimates in a Bloomberg survey. That compares with the Treasury's projection that it would stabilize at 88.9% of GDP a year earlier. 
The improved metrics should lead to a tighter and faster path to a primary budget surplus, the Treasury's most critical fiscal anchor. Two-thirds of economists in a Bloomberg survey, however, don't expect the government to meet its target of reaching this in 2025.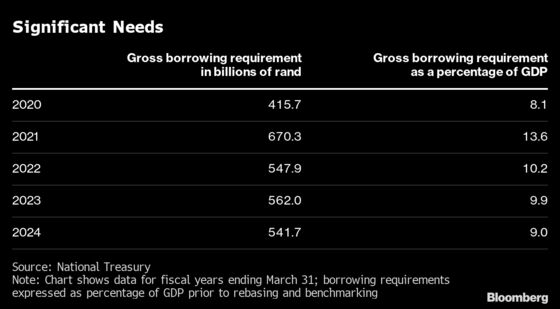 The upside surprise in revenue has allowed the Treasury to reduce the amount of debt on sale at its weekly auctions twice since March. Further advances in collections could see it slash borrowing requirements that would help contain the cost of servicing the country's loans, the fastest growing expenditure line item since 2011. 
There's a risk that the government could see an improvement in debt metrics as an opportunity for greater borrowing, warned Frank Blackmore, chief economist at EF Consult.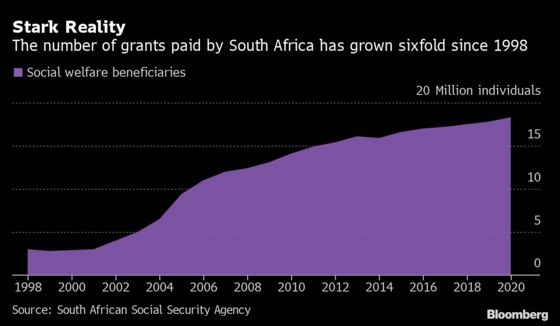 With a monthly welfare payment of 350 rand ($23) -- reintroduced in the wake of deadly riots, looting and arson in July -- set to end in March, the government is under pressure to expand the social-support measures offered to the poor and marginalized. 
While civil-society groups have proposed a basic income grant, business organizations believe that's unaffordable. The budget could hint at President Cyril Ramaphosa's thinking around welfare and funding options.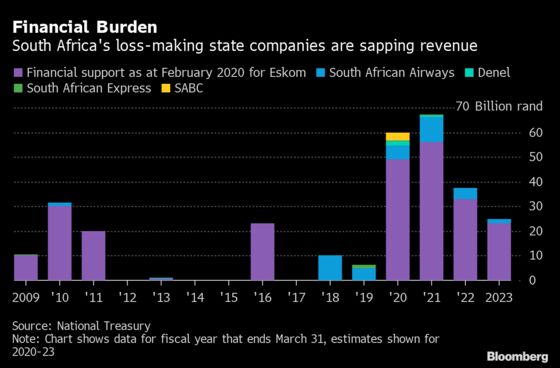 More allocations for cash-strapped state-owned companies could compromise the fiscal framework. 
Following July's civil unrest, the Treasury has said riot insurer Sasria Ltd. needs more support. Coal-dependent power utility Eskom Holdings SOC Ltd. has said government finance is key to funding its transition to cleaner sources of energy. Arms manufacturer Denel SOC Ltd. and the Land and Agricultural Development Bank of South Africa are also likely to seek aid.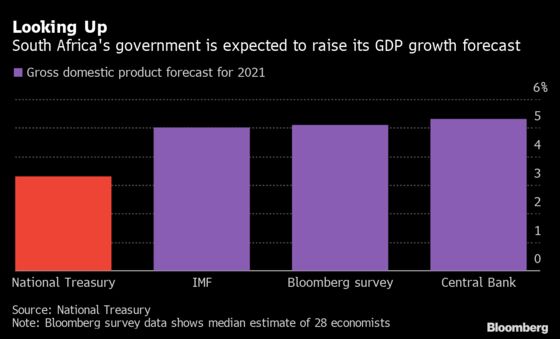 The economy's recovery from last year's virus-induced contraction has gathered pace and the Treasury is now expected to raise its 2021 economic growth forecast in line with other estimates. 
With short-term prospects likely to be affected by Covid-19 vaccine hesitancy -- leaving the country vulnerable to new strains of infection and stricter lockdown measures -- and the resumption of rolling blackouts that threaten to weigh on output, investors will be looking to Godongwana for an update on long-awaited economic reforms.