CFTC's Quintenz to Leave Swaps Regulator by End of October
(Bloomberg) -- Brian Quintenz, the longest-serving member of the U.S. Commodity Futures Trading Commission, is planning to leave the agency by the end of October.
Since joining the CFTC in August 2017, Quintenz has pushed for revamping post-crisis regulations that were criticized as overly broad and burdensome, aligning him with President Donald Trump's de-regulatory mantra. The 43-year-old Republican also sponsors a CFTC committee that gets advice from industry executives on how technology is affecting markets.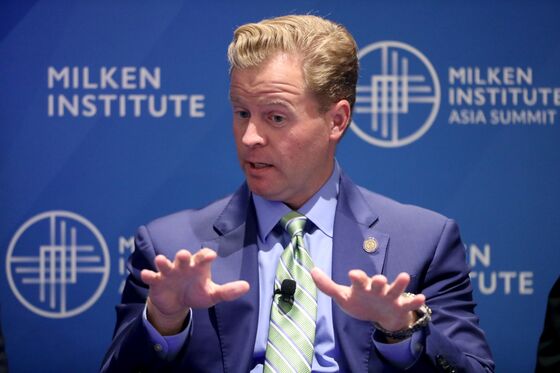 "I'm obviously going to continue to support the president's agenda and re-calibration of financial regulation," Quintenz said in an interview. "The market deserves to know what the plan is."
While Quintenz's term ended this month, it could been have extended through the end of the year unless a successor was seated. His announcement comes as the CFTC presses ahead on Chairman Heath Tarbert's policy-making plans and deals with fallout from the coronavirus pandemic.
Quintenz has generally backed the chairman's agenda, which includes finalizing limits on hedge funds' ability to speculate on commodity derivatives and new data reporting rules for swaps.
Earlier in his tenure, Quintenz became known for taking a hard line in a clash between the CFTC and European Union regulators on oversight of derivatives clearinghouses. He also made headlines in early 2018 when he called for digital trading platforms to form a self-regulatory organization to write and enforce rules.
In the interview, Quintenz said he was particularly proud of the work he did with Securities and Exchange Commission member Hester Peirce to harmonize the two agencies' rules for derivatives.
Quintenz, who indicated he could leave before October if a replacement is confirmed, said he doesn't know what he'll do next and hasn't spoken with people in industry about possible opportunities. He said the White House and the CFTC's leadership are supportive of the work he's done at the agency and his exit plans.
"Brian has been a tremendous colleague and a steadfast advocate for sound derivatives regulation during his tenure," Tarbert said in a statement. "I look forward to working with him over his last months in office to finalize key elements of our shared agenda."
SEC Chairman Jay Clayton, in a separate statement, said he and Quintenz have worked "closely and productively over the past three years." He added that Quintenz's efforts to harmonize derivatives rules "have been invaluable."
(According to the CFTC's website, an executive from Bloomberg LP, the parent company of Bloomberg News, is on the Technology Advisory Committee that Quintenz sponsors.)