CFA Says Level III Pass Rate Rises to Highest Level Since 2006
(Bloomberg) -- The number of candidates who passed the third and final level of the Chartered Financial Analyst exam in June rose to 56 percent, the highest success rate in 12 years.
An all-time high of 35,518 people took the final test required for the certification, according to a statement Tuesday from the CFA Institute. More than three-quarters of people who took the 2006 exam passed.
The CFA Institute also said 43 percent of candidates passed the Level I exam in June, and 45 percent passed the Level II exam. Overall, the number of June test-takers worldwide increased 18 percent from a year ago.
All three levels of the exam are offered in June, whereas in December only the first level is given.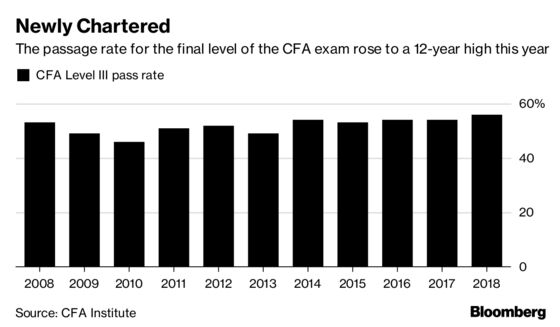 Passing the CFA exam can lead to higher salaries and better job opportunities. Candidates study an average of 300 hours for each exam and typically take four years to complete the series.
As demand for the test grew, the CFA Institute expanded its test-taking centers abroad. In December, it began allowing candidates to sit for tests in seven additional cities including Barcelona; Lagos, Nigeria; and Hyderabad, India.
China supplied the largest number of test-takers, surpassing the U.S. for the third-straight year.