CEO Political Stands May Hurt More Than Help
(Bloomberg) -- In these polarizing times, chief executives are increasingly called on to take a stand on political and social issues. They shouldn't, a Stanford University study suggests, at least not without the blessing of their boards.
Consumers remember more instances when they've boycotted in protest of a CEO's politics than they recall products they've bought to show their support, according to the study. Even if consumer furor doesn't have a massive or immediate financial impact, the controversy can damage the brand and distract executives from other, more important activities, said David Larcker, a professor at the Stanford University School of Business and a co-author of the research.
"From a board perspective, there really ought to be some discussion if the CEO is going to do something that's going to attract a lot of attention," said Larcker, who has studied CEO behavior for decades. "Even though that person is speaking for themselves, they're identified with a company, and it can affect purchase behavior."
Restraint has gotten more difficult. Consumers, particularly younger buyers, increasingly expect companies to take positions on controversial issues, even if they aren't related to a line of business. A case in point came from the pressure on CEOs to resign from President Donald Trump's business council in 2017, where previously such posts had been largely considered apolitical.
And consumers don't want CEOs to ignore social issues, the study found. About 65 percent of respondents said executives should take stances on important issues -- depending on the issue. Consumers are more likely to want to hear CEO opinions on topics such as the environment and health and would rather they not weigh in on religion and politics, the survey found.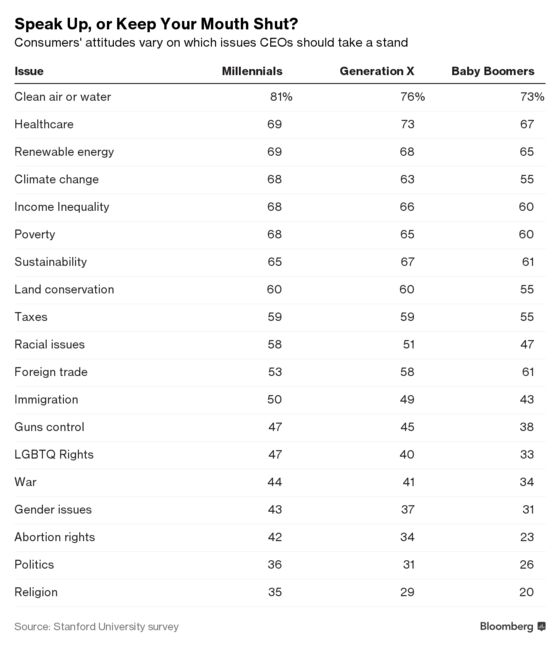 If a CEO is going to speak out, a Dartmouth communications professor has developed a set of guidelines that help determine whether doing so is aligned with the company's business interests and the values it espouses. Such consideration is key in an era when the president of the United States might call you out on Twitter.
The Stanford respondents were able to name many CEOs they agree with, such as Microsoft Corp. co-founder Bill Gates's positions on poverty, Tesla Inc. CEO Elon Musk on renewable energy, and Tim Cook of Apple Inc. on social issues. They also cited disagreement with Chick-Fil-A Inc. CEO Dan Cathy's positions on LGBT rights, former Starbucks CEO Howard Schultz on various topics and former Papa John's International Inc. CEO John Schnatter on racial topics.
"There's just some CEOs who want to weigh in on these kinds of social issues, and they have a big platform to stand on," Larcker said. "Some people are just more active."
More people said they would buy a product from a CEO they supported than said they would stop buying a product over a disagreement, but when the researchers asked for specific examples, 69 percent could name a product they stopped using and only 21 percent could recall a product they started using in reaction to a CEO's position on an issue.
"In terms of social settings, if there is something you really don't agree with and you're outraged by it, that does seem to be more salient in terms of behavior then, something that you agree with," Larcker said. "If you feel really strongly about something, maybe you have to get it out there, but if you're the CEO of a company, it's going to have some fallout, potentially."