Bristol-Celgene Megadeal Pushes 2019 Toward the Top of a Decade of Drug M&A
(Bloomberg) -- Just three days into the New Year, Bristol-Myers Squibb's $74 billion takeover of Celgene Corp. has already propelled 2019 to the sixth-biggest year for drugmaker deals of the past decade.
This year's total already exceeds the annual tallies from 2010 to 2013 and approaches the $97 billion sum for all of 2017.
With only six deals announced in the industry this year, the $89 billion total value is well on its way to topping 2018's $189 billion total for completed or still pending pharmaceutical and biotechnology deals worldwide -- all 693 of them.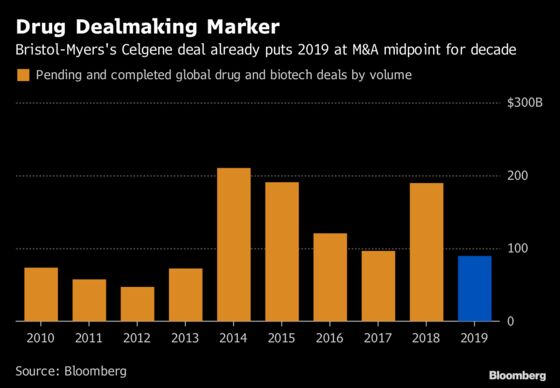 The second-biggest pharmaceutical deal of this year is the $537 million sale by Grifols SA of three companies to Scranton Enterprises BV, the data shows. That deal was announced Wednesday.
Investors aren't necessarily embracing the notion that the biggest pharmaceutical deal of all time on the third day of the year might set the pace for the 362 days to follow. The Standard and Poor's 500 Pharmaceuticals Index fell 3.1 percent Thursday, compared with the 2.5 percent drop in the S&P 500.
Notably, Bristol-Myers fell 14 percent to $45.12 a share, while Celgene climbed 21 percent to $80.43.