U.S. Raises U.K. Travel Alert as Covid Mars 'Freedom Day'
(Bloomberg) -- Americans should avoid traveling to the U.K. because of a surge in that nation's spread of Covid-19, U.S. government and health officials warned.
The U.S. State Department issued its "do not travel" statement after the U.S. Centers for Disease Control and Prevention boosted its travel alert to "Very High," citing a surge in cases that puts even fully vaccinated travelers at risk for contracting and spreading coronavirus variants. Any travelers to the U.K. should wear a mask and stay at least 6 feet (1.8 meters) from other people, the CDC said.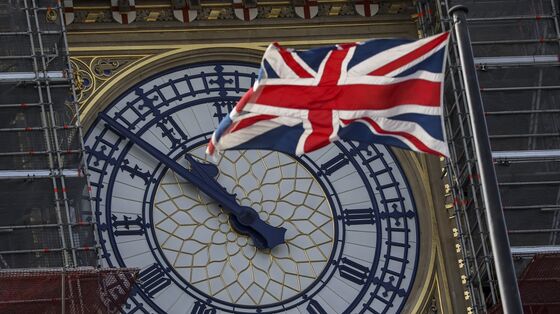 The warning comes amid a jump in cases that is already undermining the U.K.'s so-called "Freedom Day," a lifting of pandemic-related restrictions intended to herald the full reopening of an economy battered by its deepest recession in 300 years. The U.K. added more than 54,000 new cases Saturday, and over 47,600 on Sunday, more than Indonesia, the current pandemic epicenter, according to data compiled by Johns Hopkins University.
The inauspicious reopening coincided with a worldwide slump in stocks as investors fled toward safety and away from airlines, cruise companies and other industries that count on Covid-19 being contained enough to ensure a smooth economic reopening. Prime Minister Boris Johnson is taking heat for his handling of the pandemic and Labour leaders heaped scorn on his initial attempts to bypass isolation guidelines after his own Covid exposure.
Even amid the surge, the U.K. government went ahead Monday with easing most of the remaining Covid-related restrictions, including reopening nightclubs. Quarantines for fully vaccinated travelers from many European vacation destinations were also dropped, though the U.K. maintained self-isolation rules for travelers returning from France.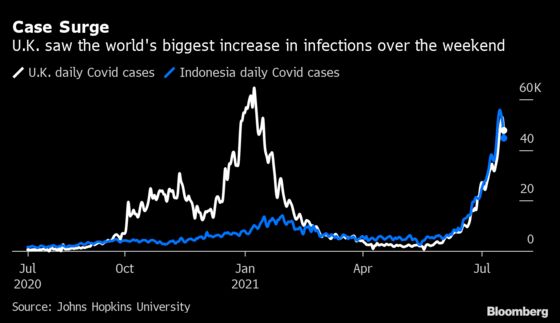 For airlines, concerns over the spread of the delta variant have outweighed the boost from reopening for now. The Bloomberg EMEA Airlines Index slid 5.8% to its lowest point since February. A Standard & Poor's Index of the five largest U.S. airlines tumbled 3.8% in New York, also to the lowest in more than five months.
It wasn't immediately clear how the CDC decision might affect deliberations within the Biden administration to drop travel restrictions to much of Europe, the U.K. and Ireland. The president signaled progress toward lifting the ban on July 16 after talks with German Chancellor Angela Merkel.
"The scientific evidence, including independent studies from Mayo, Harvard and the Defense Department, all point to the safety of air travel with proper safeguards in place," said Tori Emerson Barnes, a vice president of the U.S. Travel Association.
She called for a timeline for the reopening of international travel, "particularly with countries with similar vaccination rates to the U.S. -- starting with a U.K.-U.S. air corridor -- given the durability of the vaccines and the need to get international travel safely restarted."
U.S. airlines have been lobbying for months for an end to the ban, which affects 26 European countries. It initially was implemented by then-President Trump and later extended by Biden. Trans-Atlantic routes comprise by far the biggest market for premium long-haul travel and opening a corridor between the two countries would give carriers a needed financial boost as they emerge from coronavirus-related constraints.
Other transportation stocks also were affected, including cruise operator Carnival Corp., which tumbled 5.7% to $19.72 in New York -- its sixth day of declines in the longest streak since February 2020. Norwegian Cruise Line Holdings Ltd. fell 5.5% to $21.87.
Three more Carnival ships will restart guest operations in September and another four in October, bringing the total to 15, the company said Monday. It plans to bring back the entire fleet by the end of 2021.