CDC Advisers Weigh Second-Shot Delay to Quicken Vaccine Uptake
(Bloomberg) -- U.S. public health advisers are weighing recommendations for extending the interval between the first and second doses of Covid-19 vaccines, a potential strategy for quickly getting protection to more people amid the spread of new variants.
A working group of the Centers for Disease Control and Prevention's Advisory Committee on Immunization Practices has debated the idea, according to a person familiar with the discussions. It hasn't been decided if the full committee will take up the issue and provide official guidance, the person said. Jose Romero, chairman of the committee and Arkansas health secretary, declined to comment because the deliberations are confidential.
U.S. health officials have rejected a dose-stretching policy adopted by the U.K. that allows up to 12 weeks between Covid shots. Most drugmakers have concurred, saying that policies should follow the protocols used in the shots' testing, in which the intervals were set at three or four weeks. As dangerous variants threaten to boost U.S. cases in coming weeks, however, some states are asking what they can do to widen protection.
"We know that until we have sufficient vaccine, there is the requirement to have some sort of prioritization scheme," Clay Marsh, West Virginia's Covid-19 czar, said in an interview. "The next question is, is it better to put a single dose in the arms of more people?"
President Joe Biden has increased orders of vaccines from Moderna Inc. and the partnership of Pfizer Inc. and BioNTech SE, predicting that supplies will be in place to vaccinate 300 million Americans by the end of the summer. The strain could ease further in coming weeks if a single-shot vaccine from Johnson & Johnson is authorized, but immediate supply is not expected to be large.
States are still trying to speed immunizations, and West Virginia is among those pushing for the CDC and the Food and Drug Administration to provide more dose-stretching guidance, according to the person with knowledge of the discussions. One possible strategy involves adhering to existing schedules for high-risk groups such as health workers and the elderly, while allowing for flexibility in younger people and those with less exposure to the virus.
The debate over the pause between shots -- three weeks between Pfizer doses in company studies and four weeks between those of Moderna -- has been heated. Supporters of longer intervals say one dose provides at least some protection, while detractors counter that it's unclear how long that protection lasts or how much is even provided.
A notable exception is AstraZeneca Plc, whose Covid-19 shot has been cleared in the U.K. and dozens of other countries, although not in the U.S. Cambridge, U.K.-based Astra says its studies indicate that a 12-week interval raises efficacy, and the World Health Organization recommended 8 to 12 weeks between doses in authorizing the shot last week.
Both the CDC and the FDA have moderated their stance on the issue. Shortly after Biden took office, the agencies said that waiting up to six weeks between shots is acceptable in special circumstances.
In Illinois, the demands of getting second doses to people is overwhelming the state's ability to administer first ones. The number of second shots in the state will likely outnumber first doses until March when allocations increase, the Department of Public Health said in a statement Saturday.
"We have been striking this balance between promoting the first doses as well as the second doses," Director Ngozi Ezike said Feb. 2 in a U.S. House of Representatives hearing. "And we want to use as many available doses as quickly and effectively as possible."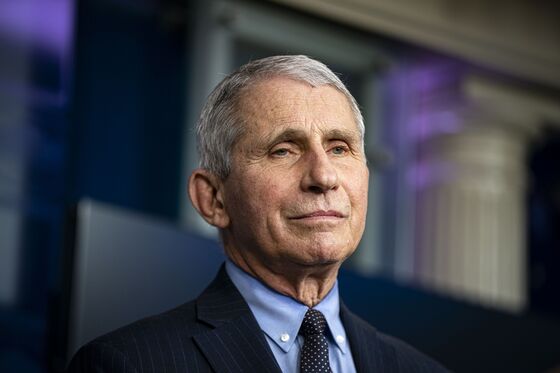 Anthony Fauci, Biden's chief medical adviser, said last month he's worried about attempts to delay second shots.
"I'd be concerned, because you don't get full efficacy until you get that second dose," he said Jan. 25 at the World Economic Forum.
There's also the potential that lower levels of protection conferred by one vaccine dose compared to two could allow faster-spreading variants to gain a greater foothold, Jesse Goodman, former chief scientist at the FDA, said in an interview. A two-dose regimen with reduced efficacy against a mutant might be ineffective against the same strain in a single dose, Goodman said.
A longer interval with a single dose on board means "extending the period during which people are more at risk of being infected," he said. "I've personally seen and heard about numbers of people already getting Covid after the first dose."
West Virginia won't make any moves without a go-ahead from federal officials, according to Marsh, the Covid czar, but he's watching countries like the U.K. and Israel where leaders are giving as many first doses as possible.
"Our strategy for Covid constantly needs to balance what our national experts say," he said, "but also it's our responsibility to our citizens to make sure we're constantly trying to push the envelope."