Cyberpunk Game Reviews Take Wind Out of CD Projekt's Sails
(Bloomberg) -- CD Projekt SA shares slumped on Tuesday after press reviews of the Polish studio's latest big production dashed optimism among analysts that it might be the highest-rated video game of the year.
The stock fell as much as 9.4% in Warsaw following the publication by aggregation website Metacritic of review scores for Cyberpunk 2077, the hotly anticipated futuristic role-playing new franchise that features the actor Keanu Reeves. The game, whose thrice-delayed release is slated for Dec. 10, scored 91 out of 100 based on the average of 44 reviews by journalists, ranking it as only the fourth-best PC game of 2020.
The Metacritic score "may be to some extent considered as disappointing given the massive hype and high bar set by high-budget AAA titles in the past," Rafal Wiatr, an analyst at Citigroup Inc. in Warsaw, wrote in a note.
The steep decline in the stock illustrates the high expectations for a game that analysts estimate will sell almost 30 million copies in its first year, making it one of the best sellers of all time. For CD Projekt, there's a lot riding on the new franchise, given the scarcity of the company's major releases, the last of which was in 2015. Its shares have soared more than 22-times since the start of 2015, and are still up 44% in 2020.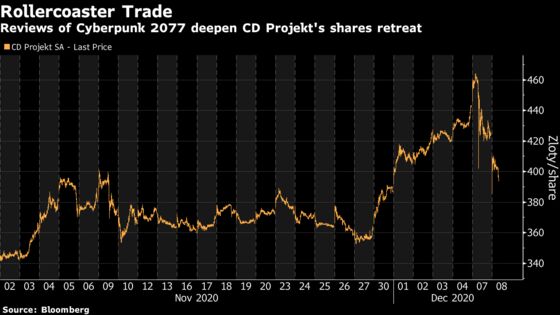 Metacritic's score ranks Cyberpunk behind the industry's biggest hits of the year such as Red Dead Redemption 2 and Grand Theft Auto V. It's also lower than the 93 scored by CD Projekt's last big hit, Witcher 3.
While most critics gave broadly positive reviews of a game that took eight years to develop, many felt it contained too many bugs.
Gene Park at the Washington Post called it an "engaging thrill ride," but one that is "boiling over with glitches." IGN reviewer Tom Marks described it as "one of the most exciting, emotional and just plain fun RPGs (role-playing games) I've played in recent years," but pointed to bugs including objects failing to load, progress being halted and his character's hair disappearing.
CD Projekt already released a patch that aims to fix some glitches in time for the premiere, and is developing another. Many employees have been working long hours and mandatory six-day weeks in order to finish the game and fix bugs, leading some critics to suggest that exhausted staff may cause more glitches than they actually fix.
The company is pleased with the journalist reviews, co-Chief Executive Officer Adam Kicinski said in an emailed response to Bloomberg News questions, without commenting on how much more work is needed to boost the title's quality.
For analysts, the speed at which technical issues can be overcome may be the key for final sales. Metacritic score's is likely to change as 17 more reviews are in progress or pending.
"First year sales are likely to be driven by both critic and user reviews, and the latter may depend on how quickly and comprehensively CD Projekt fixes the bugs," wrote Morgan Stanley analyst Omar Sheikh.